Around the World and Home Again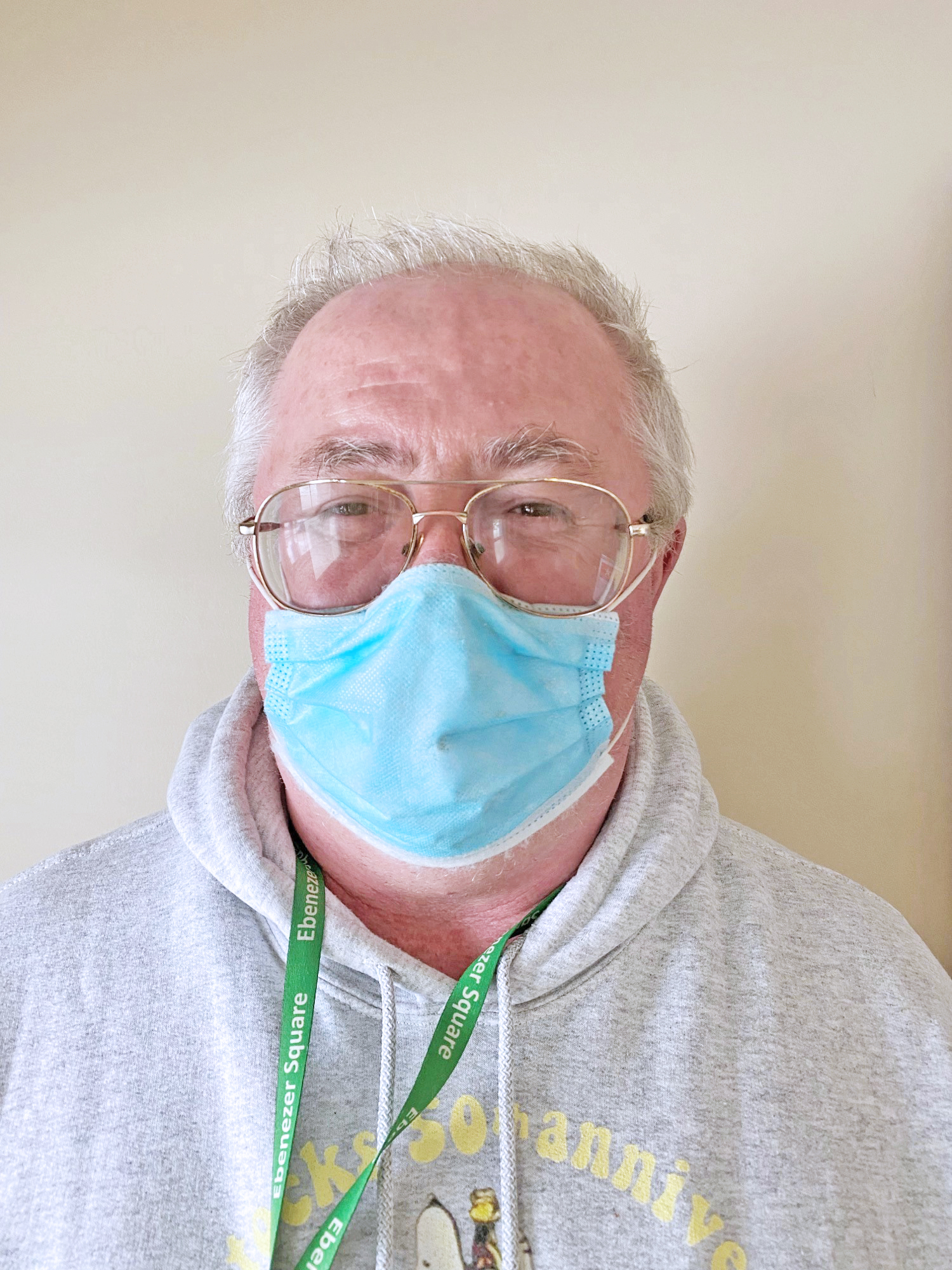 Bill Schwab has traveled the world in search of adventure. He joined the Navy at age 19, serving active duty from 1979 to 1988, including combat in the Soviet-Afghan War.
"At sea, I was always on ships," he said. "We'd go out from six months to a year. We went everywhere."
Among Bill's favorite places he's traveled include San Diego in California, Athens in Greece, and Rio de Janeiro in Brazil.
He's now found a sense of stability and independence back in his hometown of West Seneca at DePaul's Ebenezer Square Apartments. He moved there October 2016 when the building first opened. Bill recalls riding the bus from his apartment at DePaul's Seneca Square, his prior home, to watch Ebenezer Square under construction.
Bill discovered his love of carpentry when he was ten years old. He would ride his bike to job sites to ask if he could work in the warehouse at Boxhorn Carpentry in Lancaster. It was something of a family tradition, as Bill's father was a journeyman carpenter and also served in the Navy.
"They used to call me Laborer Bill in Lancaster," he said. At 16, Bill joined the United Association Local 32 and got hired at Boxhorn where he worked as a foreman and handled the scheduling. At 19, Bill got tired of the snow and bored with a desk job and joined the Navy.
"I felt bad leaving there," he said. "My boss shook my hand. He was a little unhappy about it because I had worked for him for so long."
After retiring from active duty in 1988, Bill remained in the Navy on shore duty, working on ships until his discharge in 1992. Bill returned to carpentry for several years during which time the company he worked for received a United States Gypsum Achievement Award for installing 4.5 million feet of drywall. Along with the recognition, he and his colleagues received 16 plane tickets to Las Vegas, a fun memory.
Bill went to the Veteran's Hospital for depression in his mid-40s. He received a mental health diagnosis and was placed on disability due to physical injuries. His sister referred him to DePaul in 2000. He began living at Edgebrook Estates in Cheektowaga, moving to Seneca Square in Buffalo in 2009.
"Now I've got my own apartment again," Bill said of his home at the Ebenezer Square Apartments. "I love that it's all-inclusive, with a full-size kitchen and stove."
Sober since 1999, Bill is an accomplished man who likes to keep occupied. He doesn't watch television, choosing to focus instead on keeping his apartment neat and clean, and on his health, even exploring the possibility of joining a gym.
"I've been trying to exercise," Bill said. "I like staying busy and getting involved with people. I try to stay active."
Bill is a very independent guy, said Ebenezer Square Residential Services Coordinator Ashley Agnew. He participates in groups and activities, which have kept him busy and social, something he thrives on.
"Bill has made an effort in improving his health," said Ashley. "He's super independent and does everything on his own. He doesn't need much from me."
With a chuckle, he said he "tries not to bother" Ashley too much.
Senior Program Director at the Ebenezer Square Apartments Tracy Vogl said Bill is always working to better himself and the community. Bill said he is grateful for his apartment and the help he receives from DePaul.
"I talk to people all the time, and I like having somebody as a support," he said.
You'll find this story and and other news from DePaul in the Winter 2021-Spring 2022 Details newsletter.