Activities Get Inventive During COVID-19
By: Amy Cavalier, Communications/Development Coordinator
Though current circumstances call for the need for social distancing, the fun must go on at DePaul! Residents and clients throughout the agency are staying engaged and entertained with everything from arts and crafts projects and gardening to hallway bingo, exercise and much more!
Bingo
There's no stopping bingo! Staff at DePaul sites across the agency have found a way to make the favorite pastime possible! Residents have been playing in their bedrooms, in the halls, or seated just inside their doors.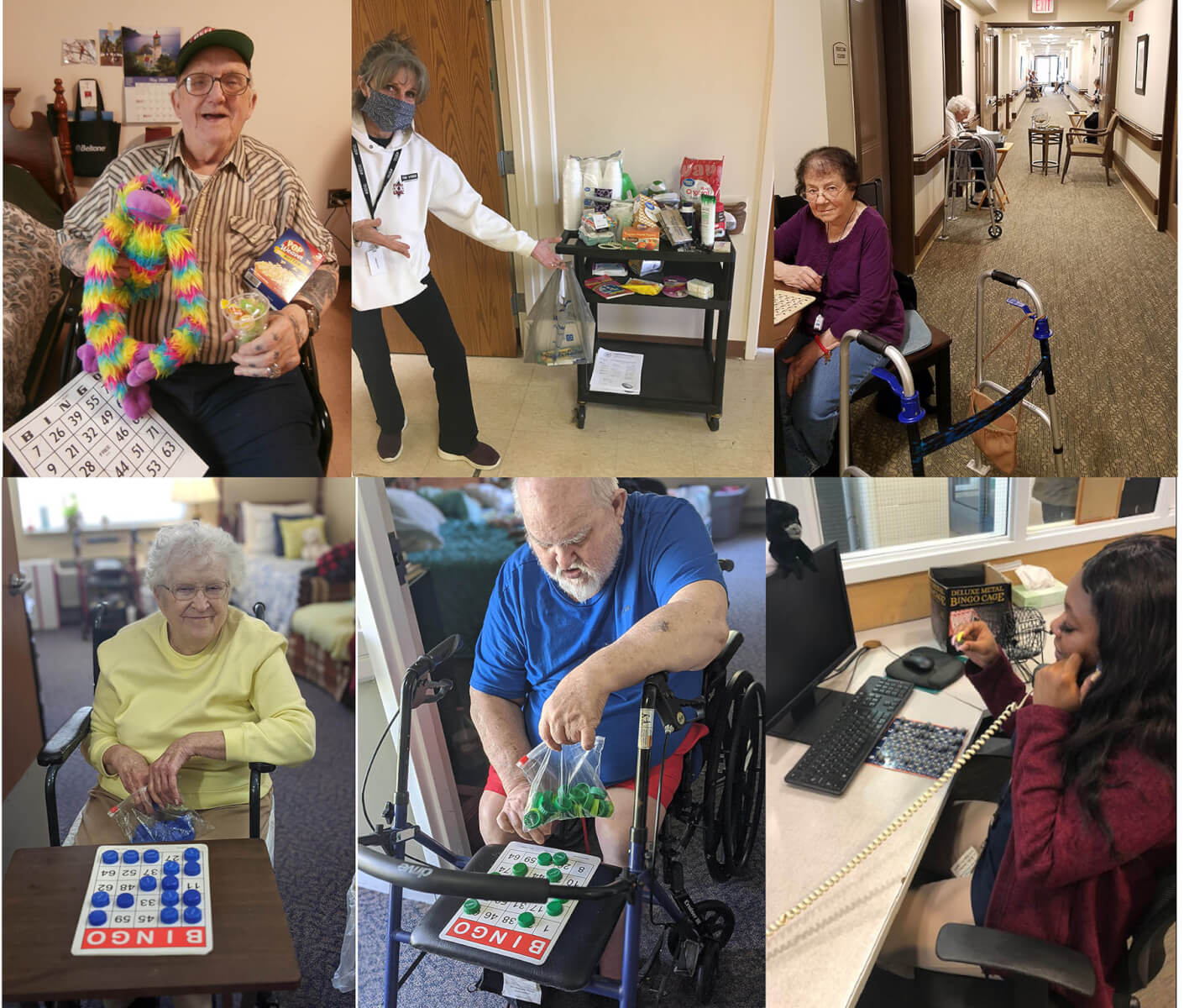 Pictured above, a resident at Twelve Oaks in Mt. Airy, North Carolina, shows off his winnings; a staff member at Parkside in East Rochester, New York wheels the prize cart around; residents line the halls to play at Wheatfield Commons in North Tonawanda, New York, and Heath House in Lincolnton, North Carolina, and a staff member at Edgerton Square in Rochester, New York, calls bingo over the intercom while residents play from their rooms!
Art Therapy
Staying creative is a great way to keep the mind occupied during these times of uncertainty! Residents and staff have been discovering and sharing their talents including everything from paint-by-number and coloring to making their own jewelry, and decorating doors and windows!
Pictured above is artwork created by residents from Woodcrest Commons in Henrietta, New York, Cambridge House in Hildebran, North Carolina, and the Rochester View Apartments in Henrietta, New York. Also pictured, a resident at Glenwell in Cheektowaga, New York, is surrounded by the many coloring masterpieces she has completed over the past few weeks, and residents at the Knitting Mill Apartments in Perry, New York, and Glenwell have been sharing their completed coloring art with neighbors and friends.
Other crafts have included sand art at Woodcrest Commons, a rainbow made of yarn at Heath House, paper weaving at Cambridge House, ceramics at Woodcrest Commons, painting birdhouses and making tie-dye shirts at Wheatfield Commons, and jewelry stand made by an artist at the Rochester View Apartments.
One need not look beyond the windows and doors across the agency to see how creative DePaul's residents and staff can be!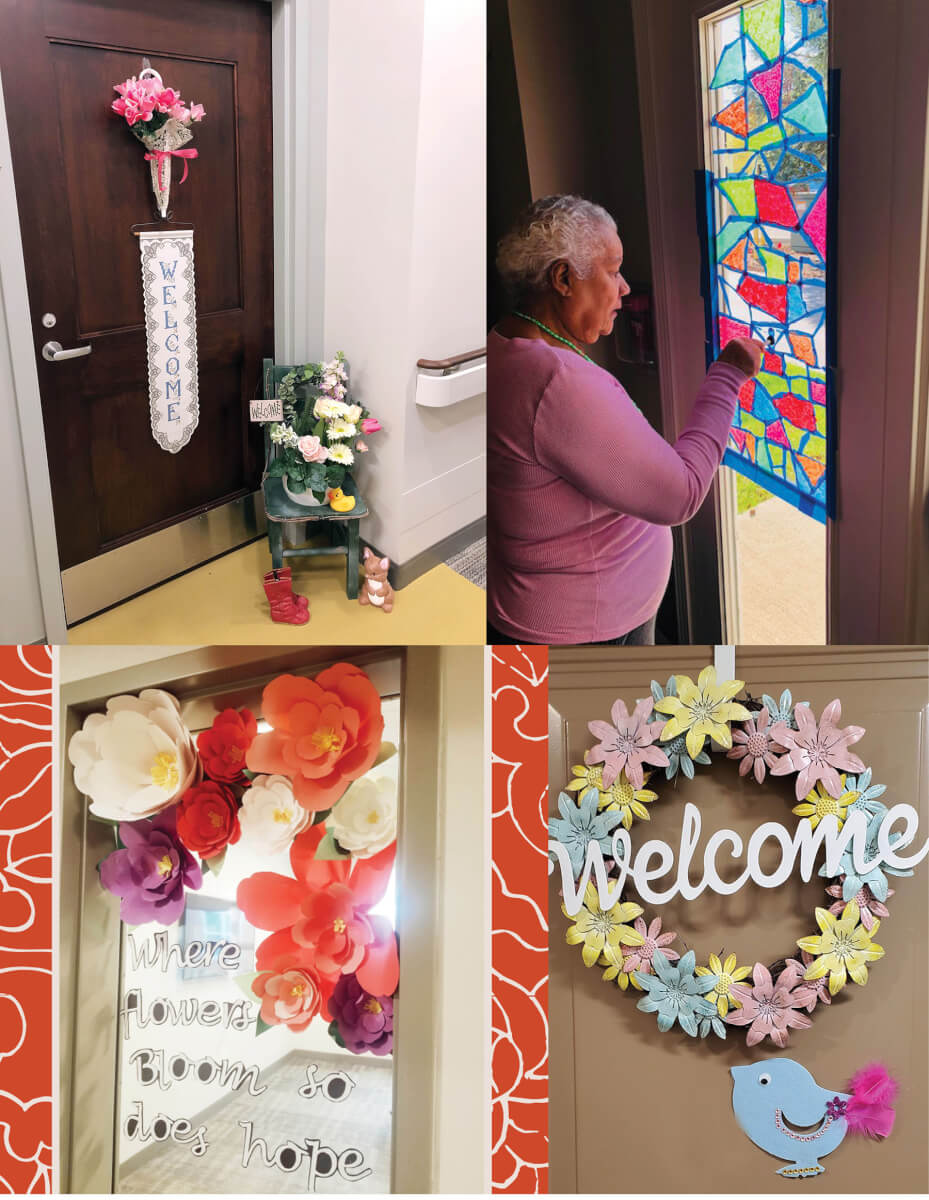 Residents at the Knitting Mill Apartments participated in a door decorating contest; memory care residents at Glenwell painted a window with a stained glass design; a staff member at the Knitting Mill Apartments used this stencil to create a paper peony art display on her door which she paired with a beautiful quote, "Where flowers bloom, so does hope," and doors at Wheatfield Commons were adorned with beautiful spring wreaths.
We All Scream for Ice Cream!
Whether it's in a cone, on a stick, or served in a dish with toppings, nothing brings out smiles like good old-fashioned ice cream!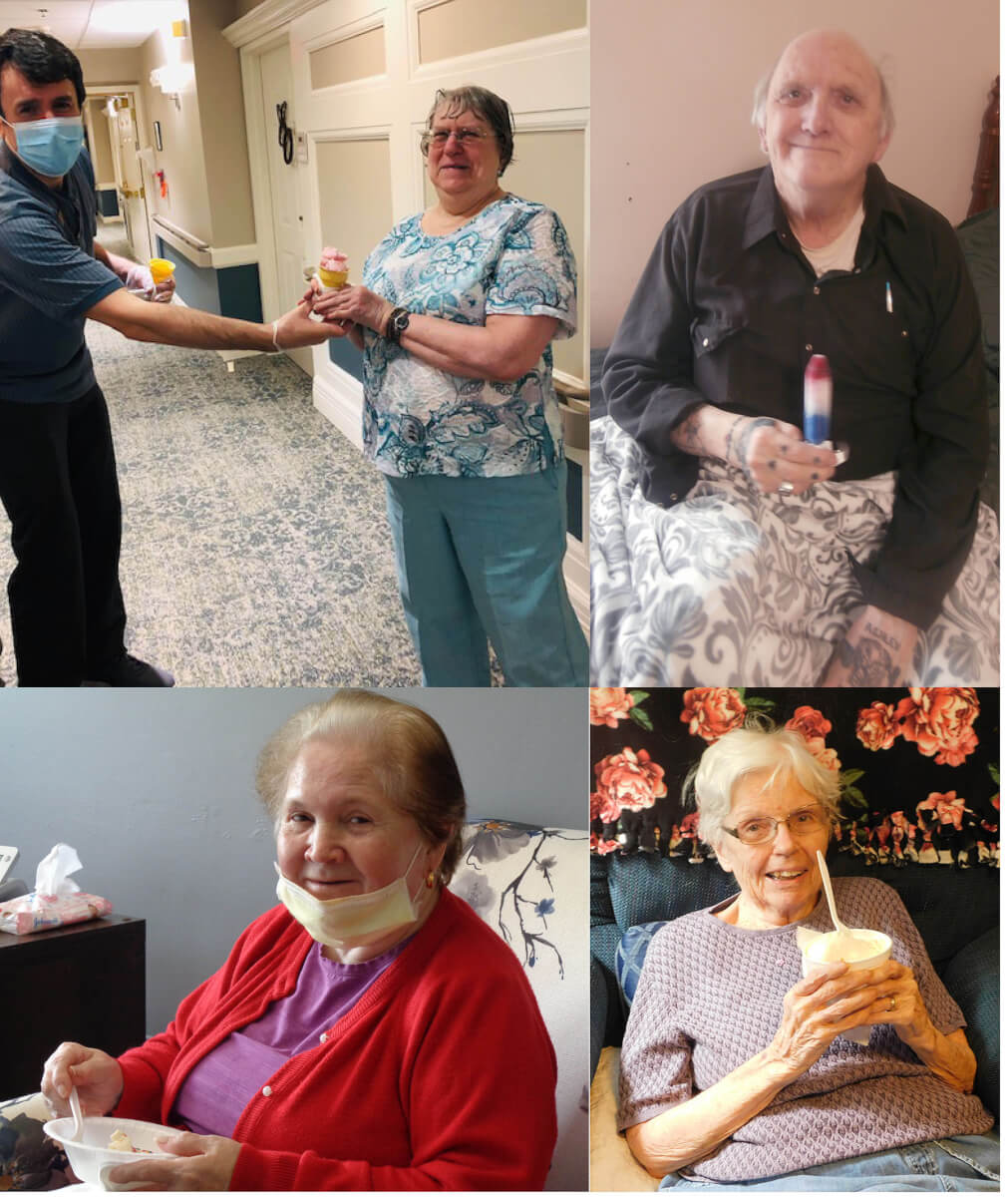 Pictured above enjoying a cold, sweet treat are residents at Glenwell, Twelve Oaks, Horizons in Canandaigua, New York, and Westwood Commons in North Chili, New York.
Outdoor Fun
Time on the porch, colorful flowers in bloom, and garden therapy will cure any cabin fever!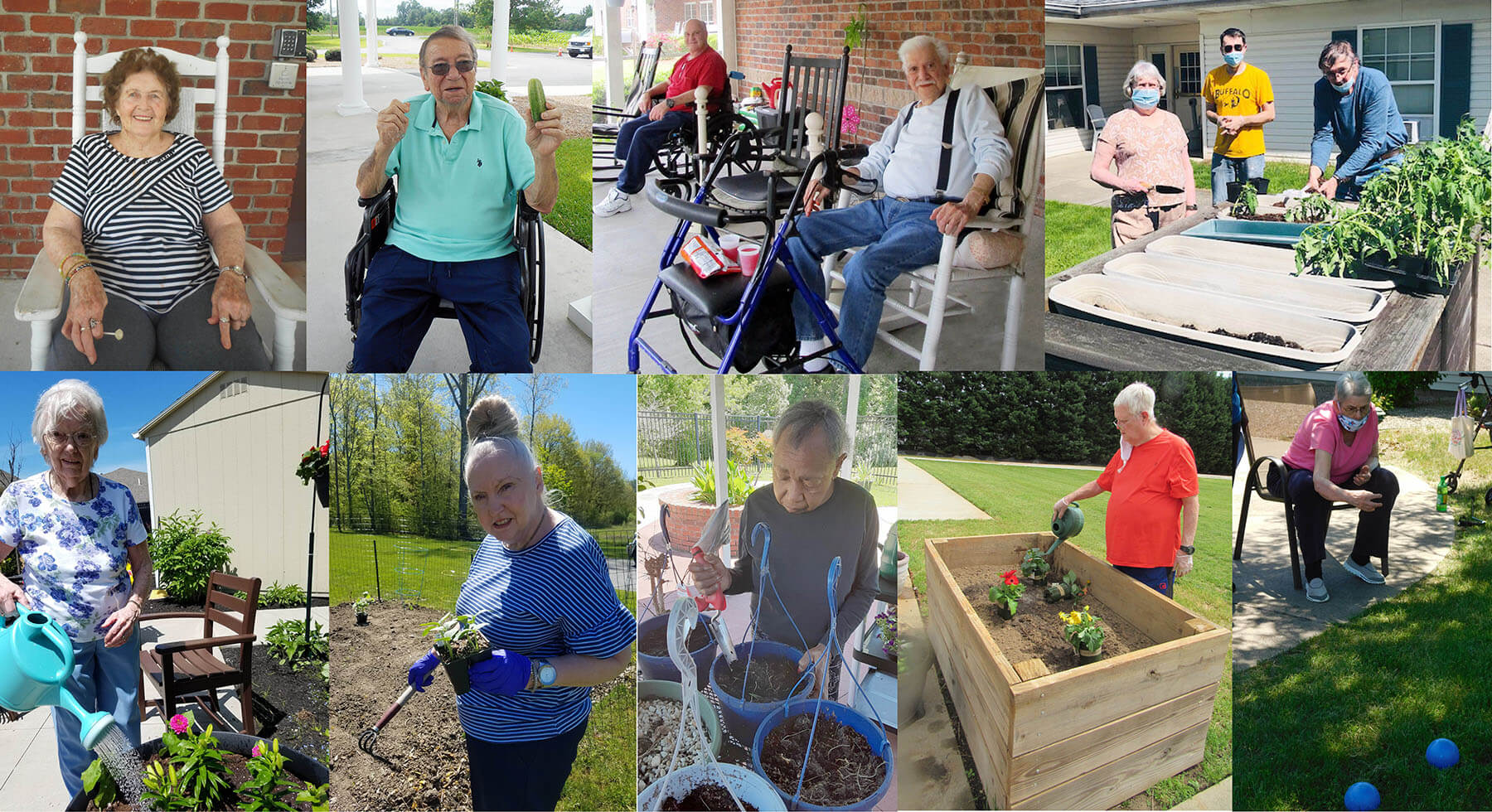 Pictured above, residents enjoy time on the porch at Dayspring of Wallace in Wallace, North Carolina, and Prestwick Village in Laurinburg, North Carolina; green thumbs enjoy garden therapy at Wheatfield Commons, Greenbrier in Fairmont, North Carolina, and Wexford House in Denver, North Carolina, and residents at Westwood Commons enjoy a game of bocce ball on the lawn.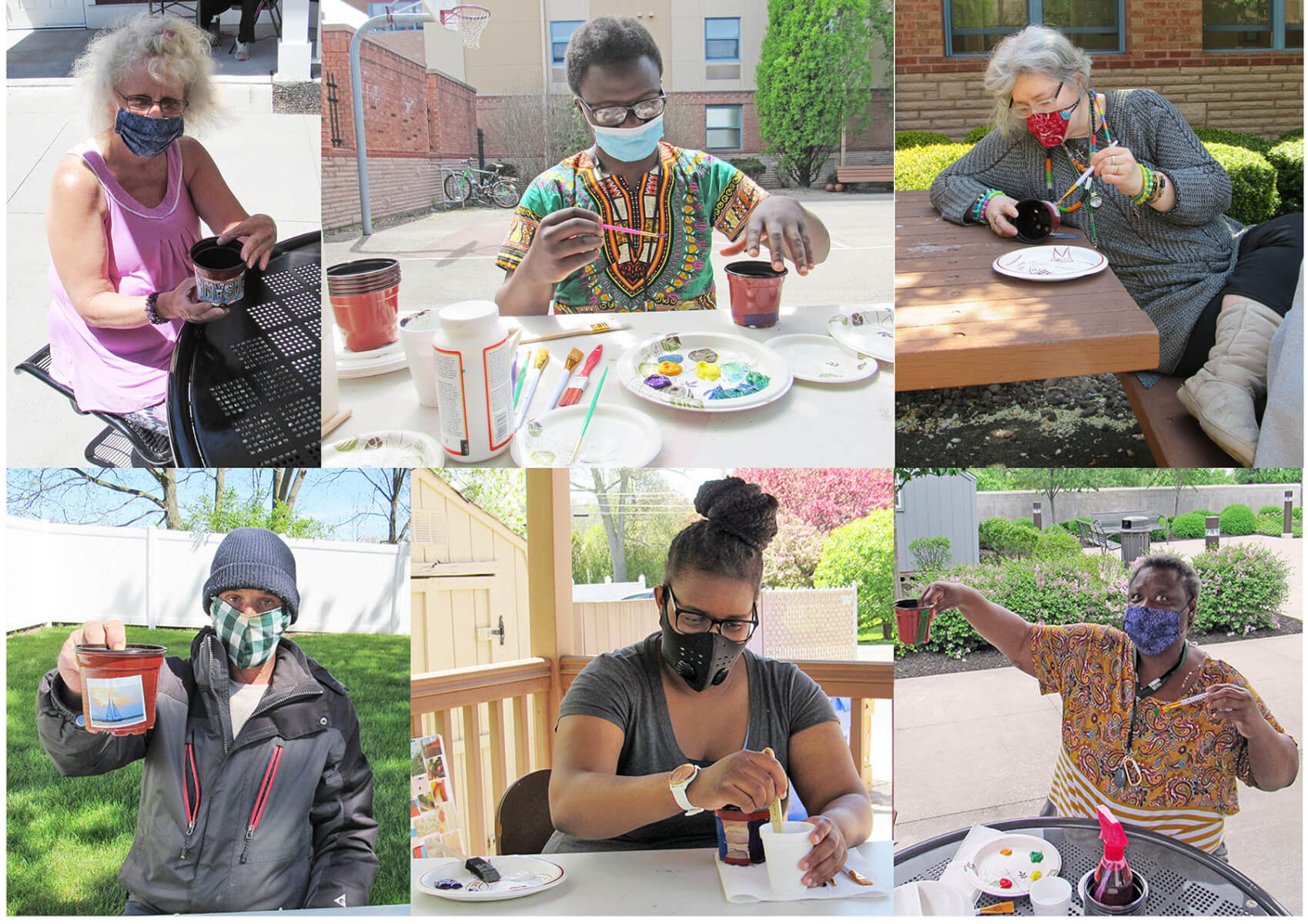 DePaul's Recreation Department recently helped residents customize flower pots to plant their own herb seeds in including rosemary, thyme, lavender and mint. Pictured above are residents from DePaul's programs at Elmgrove, Edgerton Square, Lyell Road, the Neighborhood of the Arts and Rochester View Apartments. Not pictured are clients from West Main Apartments.
Creative Connection
Mental wellness is key to overall health. Recreation activities can provide the potential for a balance in life, reducing stress and depression and improving one's mood. In light of the current limitations on gatherings, staff at DePaul have reached new levels of creativity when it comes to finding ways to keep residents connected.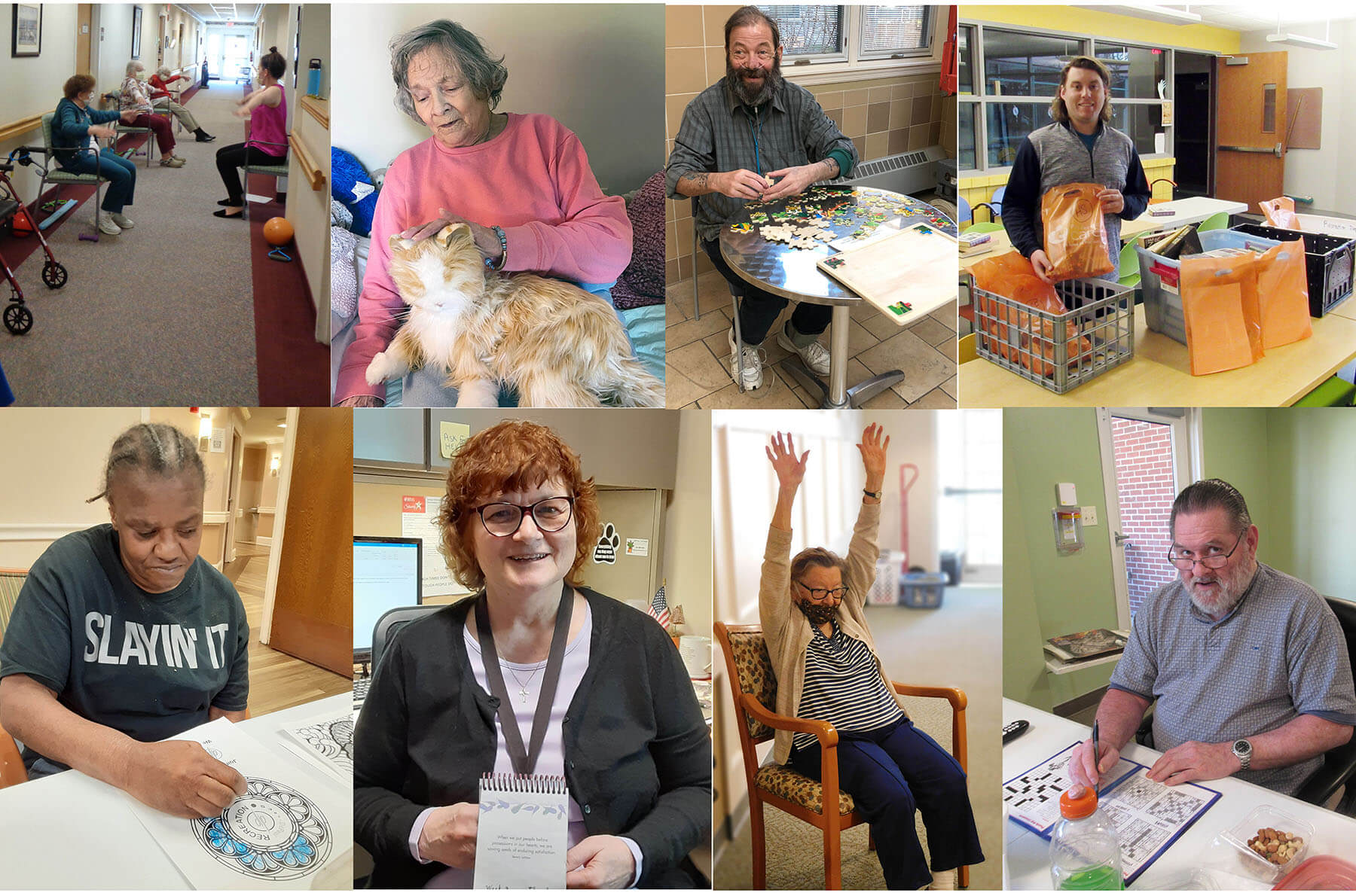 Pictured above, residents at Horizons enjoy exercises in the hall; Sunny the therapy cat, a Hasbro Joy For All Companion Pet, brings joy to a resident at Cambridge House; a resident at Seneca Square in Buffalo, New York, works on a puzzle, and staff from DePaul's Recreation and Care Management departments created care packages for clients including activities and crafts, daily schedules, wellness tools, coping skills and exercise suggestions. In addition, "Busy Bags" containing soap, coloring activities, colored pencils, etc. were distributed to residents at DePaul's Knitting Mill Apartments.
The Recreation and Communications departments collaborated on an activities book, pictured above being used by a resident at Greenbrier, which have been distributed to all sites. At the Trolley Station Apartments in Canandaigua, New York, inspiration is just a call away. Residents have been calling the front desk where a staff member is armed with a "quote a day" calendar ready to deliver an uplifting quote or words of wisdom. Also pictured, a resident at Westwood Commons enjoys chair yoga and a resident at Wexford House plays Sudoku.