Applications
Single Point of Access (SPOA) application for Monroe County
https://www2.monroecounty.gov/mh-adult-spoa-referrals 
Single Point of Access (SPOA) application for Erie County
https://familyfirst.secure.force.com/spoa/apex/spoa2_home 
DePaul Mental Health Housing Application for Genesee, Orleans and Wyoming counties
Click here to print and view the PDF
Who can make a referral to a DePaul residential mental health program?
DePaul is part of community-wide mental health treatment and rehabilitation systems in the counties in which we have a presence. Individuals must be actively involved in treatment to be considered for residency in a DePaul residential mental health program. Referrals are typically made by a treatment professional including psychiatrists, therapists, or social workers from a hospital-based inpatient mental health facility or outpatient program but families and potential residents can also begin the referral process.
Do families and clients participate in the referral process?
Families and clients are encouraged to be active participants in making this important decision. Both are encouraged to learn more about DePaul's services, program expectations, and sites to see how each best match the interests of the client prior to a formal referral. DePaul may be recommended by a community service provider, however, the client needs to make the commitment to entering and engaging in the program. It's therefore vital that the client visit the program and meet with staff members and other clients so they may make an informed decision.
How do you pay for residential mental health services?
At DePaul, residential mental health services are paid by government funding through client fees from County Department of Social Services, Social Security, and for some programs, Medicaid. Employed clients pay a fee based on their monthly income. Families who have assumed financial responsibility for their relative receiving services pay a fee based on their individual circumstances.
Flyers
Erie County Mental Health Programs        Monroe County                                                     Monroe County Mental Health
                                                                                            Apartment Treatment Programs                 Programs Overview & FAQs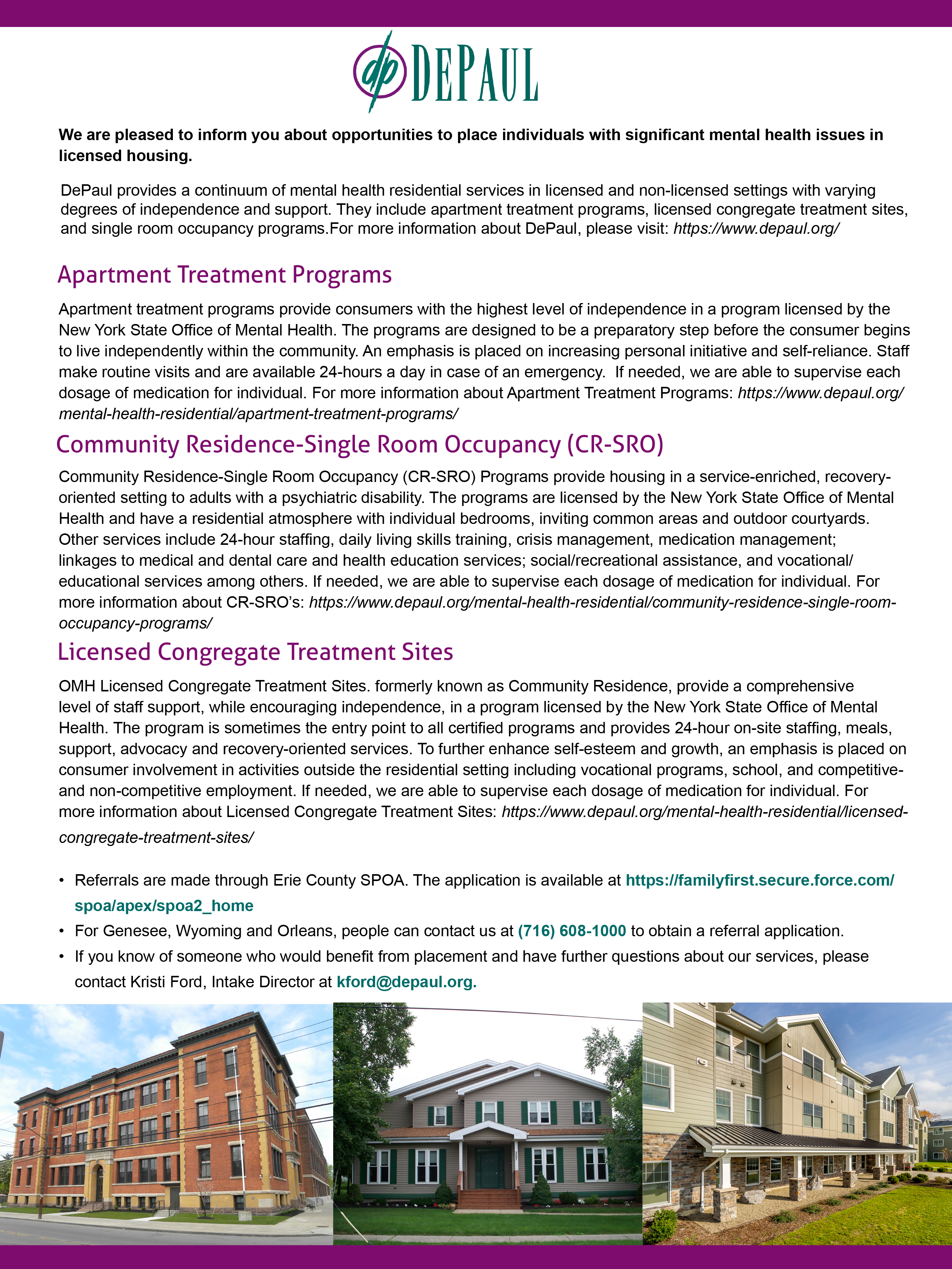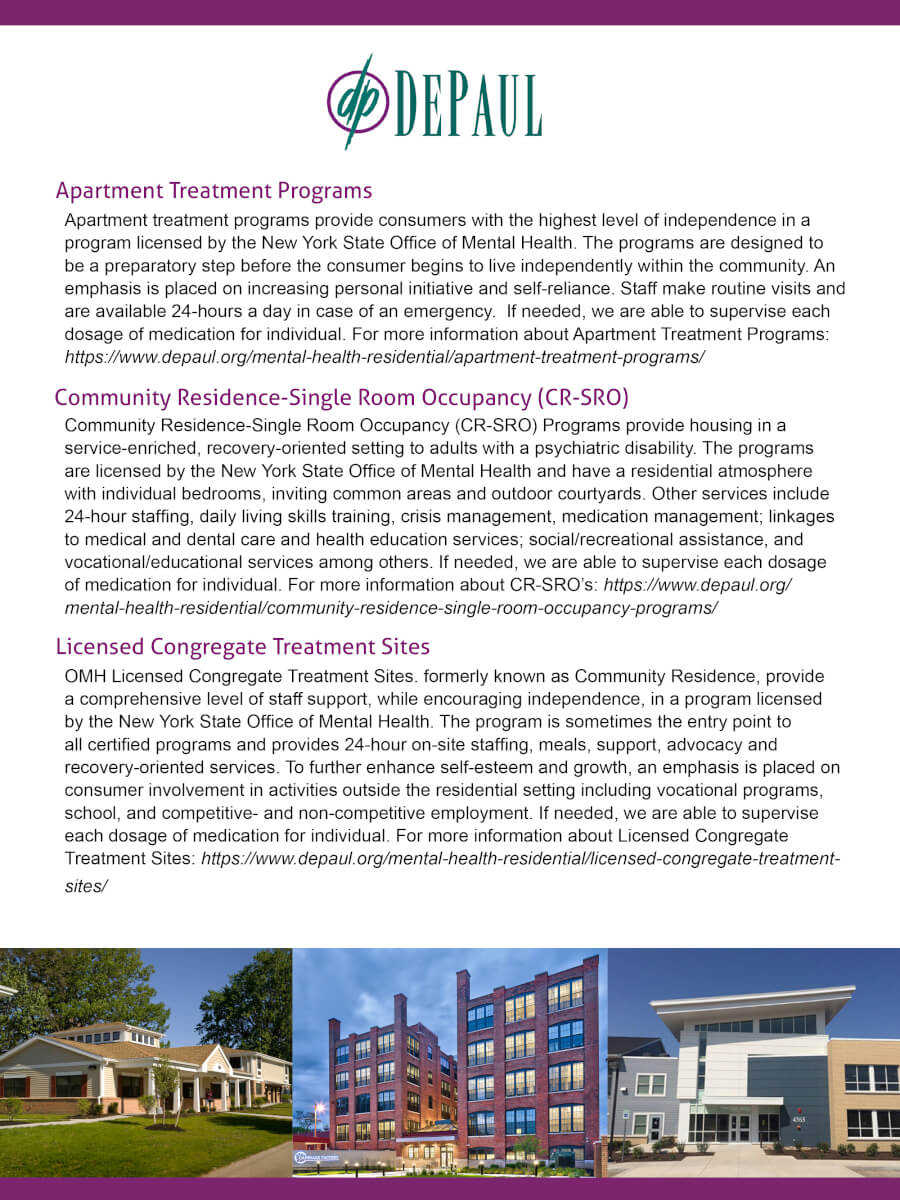 Ridgeview Commons
Apartment Treatment Program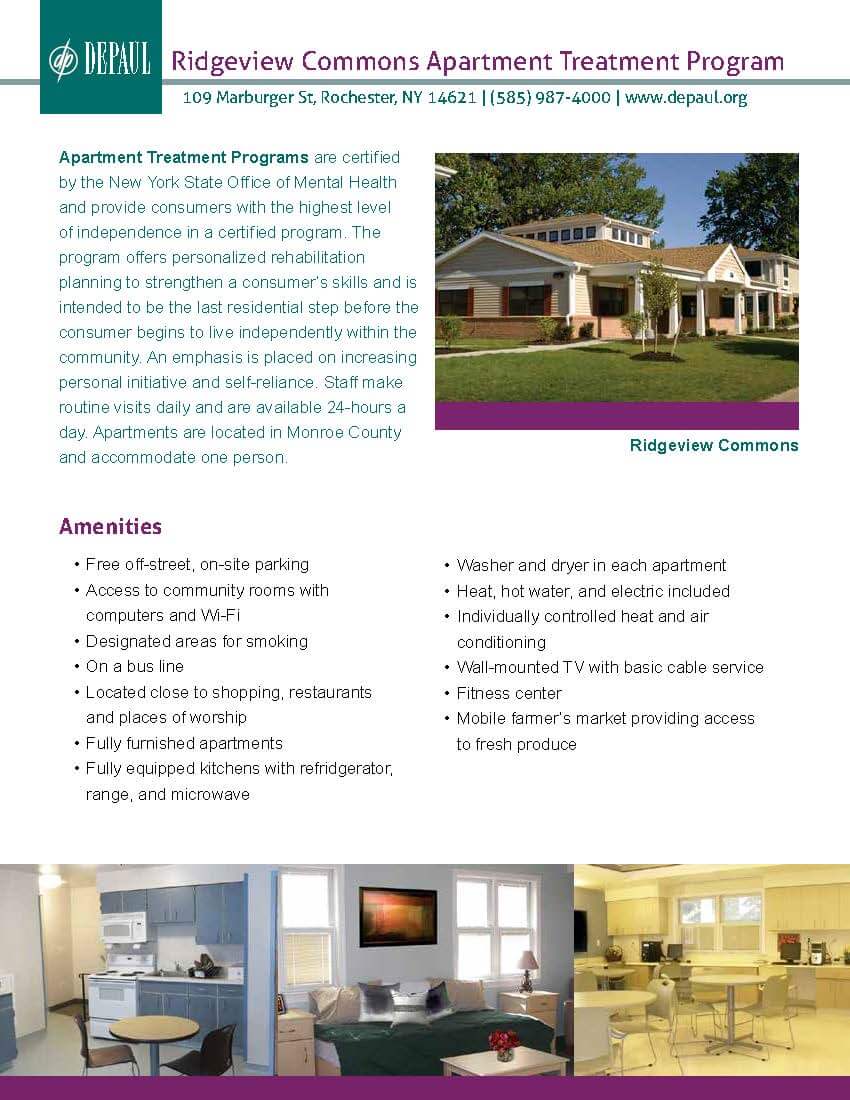 Resources
Mental Health America
http://www.mentalhealthamerica.net/
Mental Health Association of Erie County, Inc.
999 Delaware Ave.
Buffalo, NY 14202
www.eriemha.org
Mental Health Association in New York State
Mental Health Association (Rochester)
320 N. Goodman Street
Rochester, NY 14607
http://mharochester.org/
National Alliance on Mental Illness
3803 N. Fairfax Dr., Suite 100
Arlington, Va 22203
www.nami.org
National Alliance on Mental Illness – Rochester Chapter
24 Hour Addiction Hotline
Buffalo and Erie County
716-831-7007