Far Apart But Close at Heart
By: Amy Cavalier, Communications/Development Coordinator
Though circumstances may keep DePaul's residents and their families apart physically, that isn't keeping them from connecting in many other creative ways. Letters, phone calls, window visits and technology have aided the residents in virtually attending parties, celebrating anniversaries, and meeting great-grandchildren for the first time!
Windows and Walks
DePaul's senior living, mental health residential and affordable communities have been overflowing with love thanks to familiar faces in the windows and uplifting messages on the sidewalks.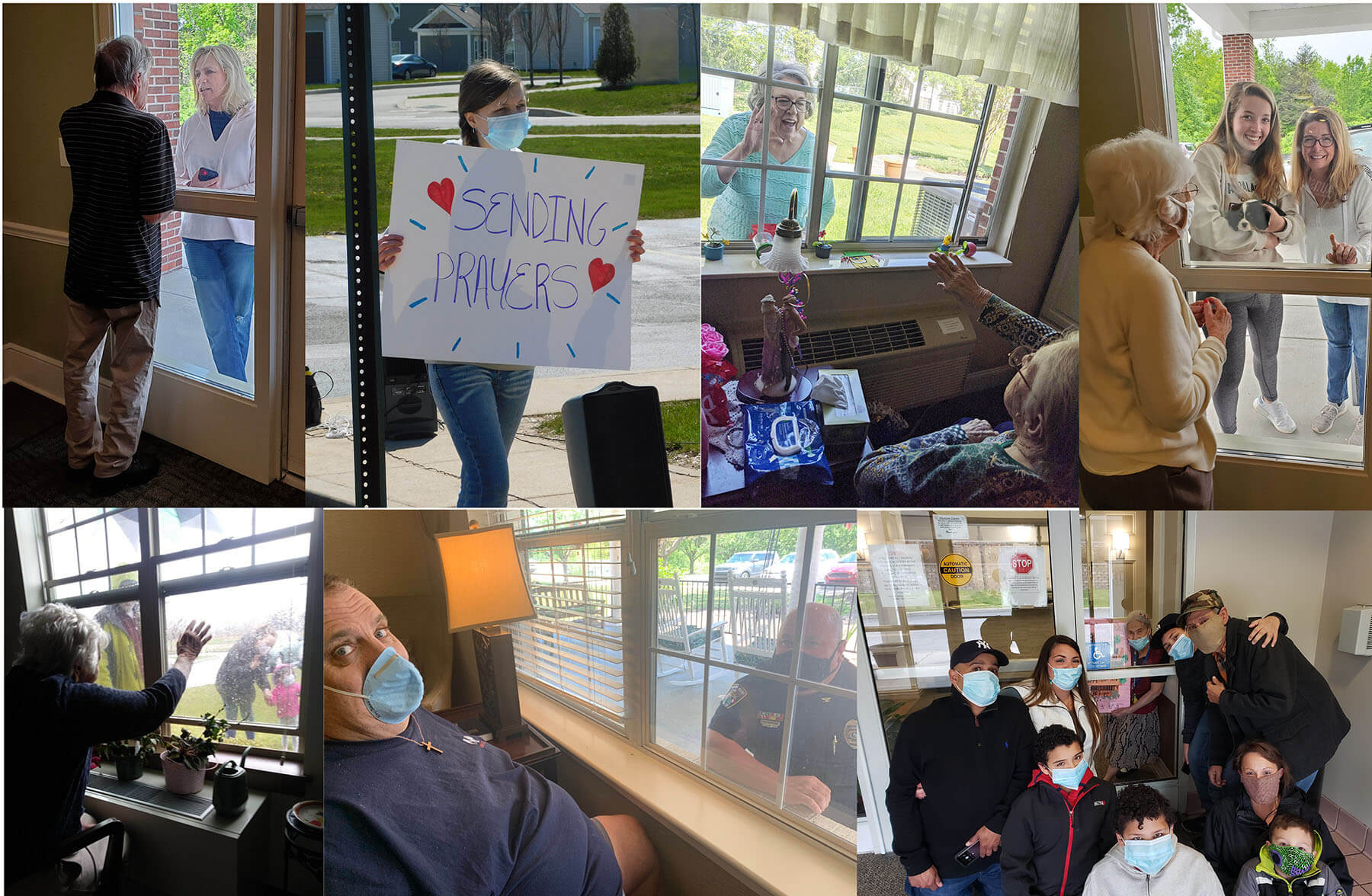 Family members, friends and folks from area churches have taken to visiting through the windows at DePaul's senior living communities.
"It is touching to see residents' faces light up when they can see and talk to their families safely and it's reassuring to the families to see that their loved ones are okay and that we are taking care of their needs," said Rolling Ridge Administrator Laura Anderson.
A visit from the local sheriff with a resident at Rolling Ridge in Newton Grove, North Carolina garnered some extremely positive comments on Facebook, really demonstrating how much the community cares!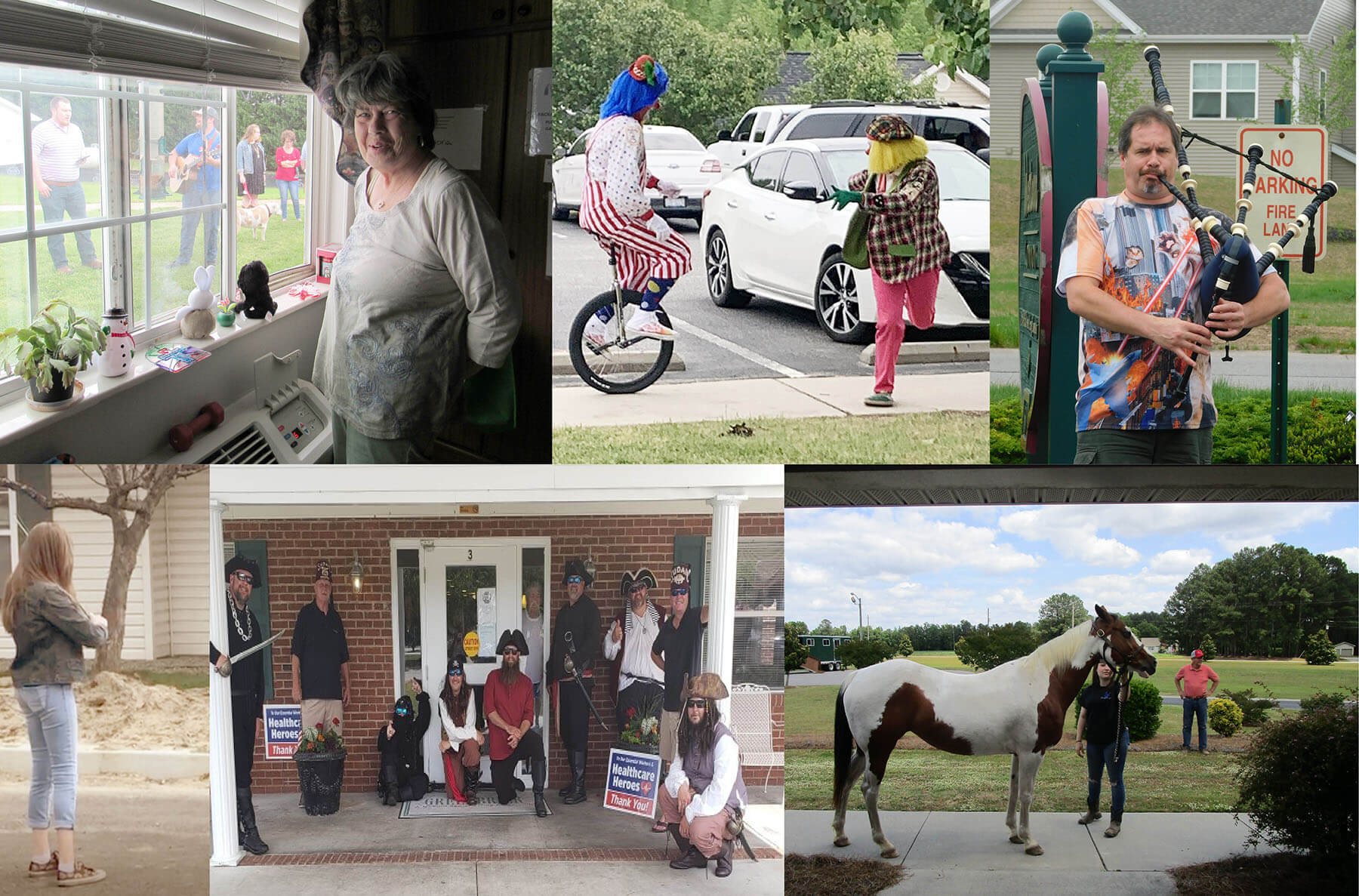 Some of the fun that's shown up outside the windows at many DePaul communities has included a socially distant concert performed by hairdresser Tina Malphrus and her family for residents at Wexford House in Denver, North Carolina; entertainment by the Sudan Dunn Clowns at Rolling Ridge; bagpipes played by Peter Glanville at Westwood Commons in North Chili, New York; a violin concert performed by a resident's niece at Glenwell in Cheektowaga, New York; a visit from the Sudan Pirates at Greenbrier in Fairmont, North Carolina, and horses on parade by Winter Stables & Riding Academy at Prestwick Village in Laurinburg, North Carolina.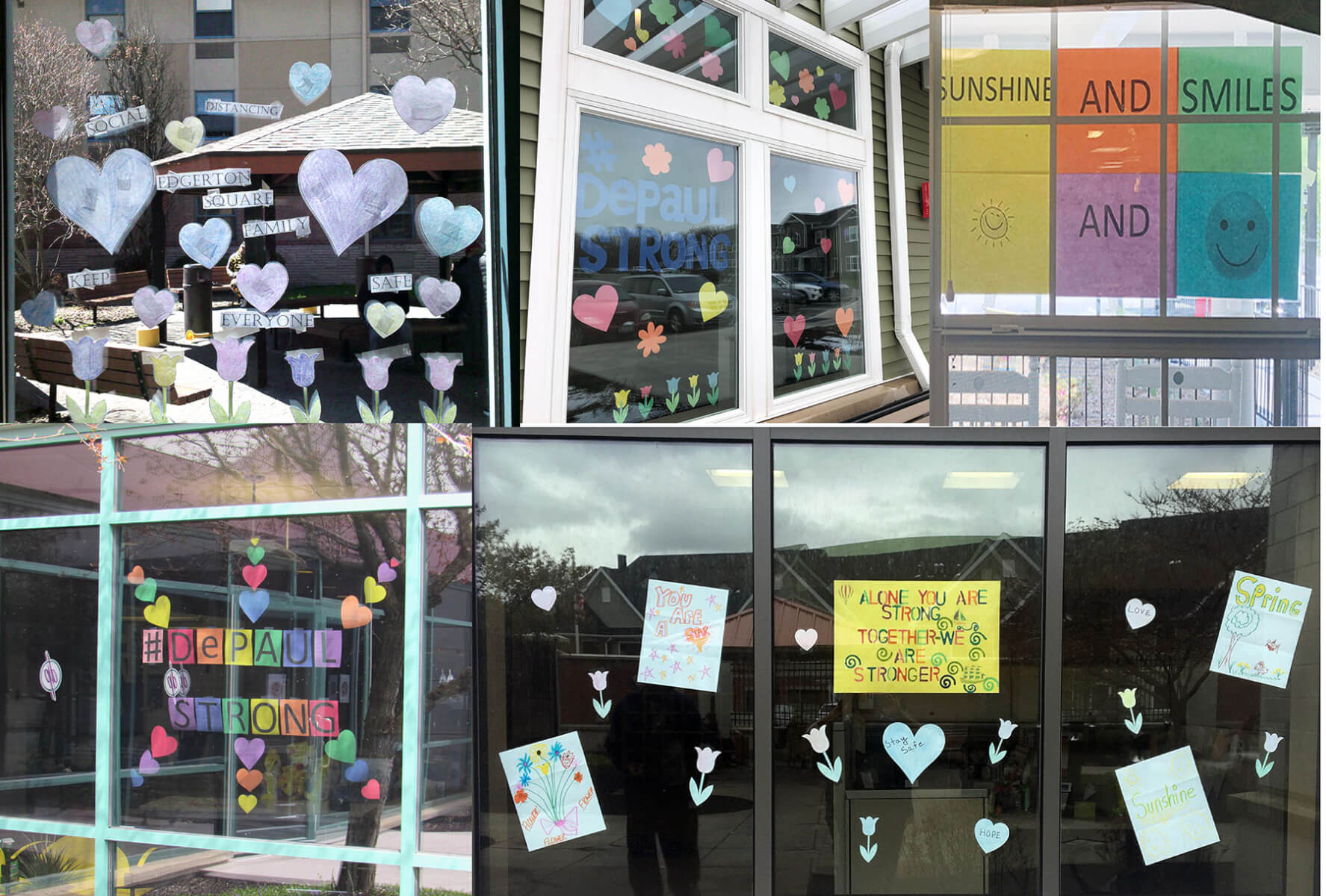 If it's not familiar faces or music in the windows, it's colorful positive messages.
DePaul's Recreation Department has been encouraging clients and staff at the agency's mental health residential communities to decorate their windows with homemade hearts, flowers and empowering messages in a gesture of unity and celebration! Pictured above are windows at the Recreation Department, Halstead Square and Edgerton Square in Rochester, New York, as well as at the Skybird Landing Apartments in Geneseo, New York. Also, the windows at Rolling Ridge are decorated with colorful and uplifting reminders thanks to Angie Blizzard, a resident's granddaughter.

The sidewalks have also become a popular way to spread cheer throughout the agency. Pictured here are positive messages on the sidewalks at Heath House in Lincolnton, North Carolina and Westwood Commons.
Virtual Chats and Hugs
Using technology has been a new and exciting way for DePaul seniors to connect with family members.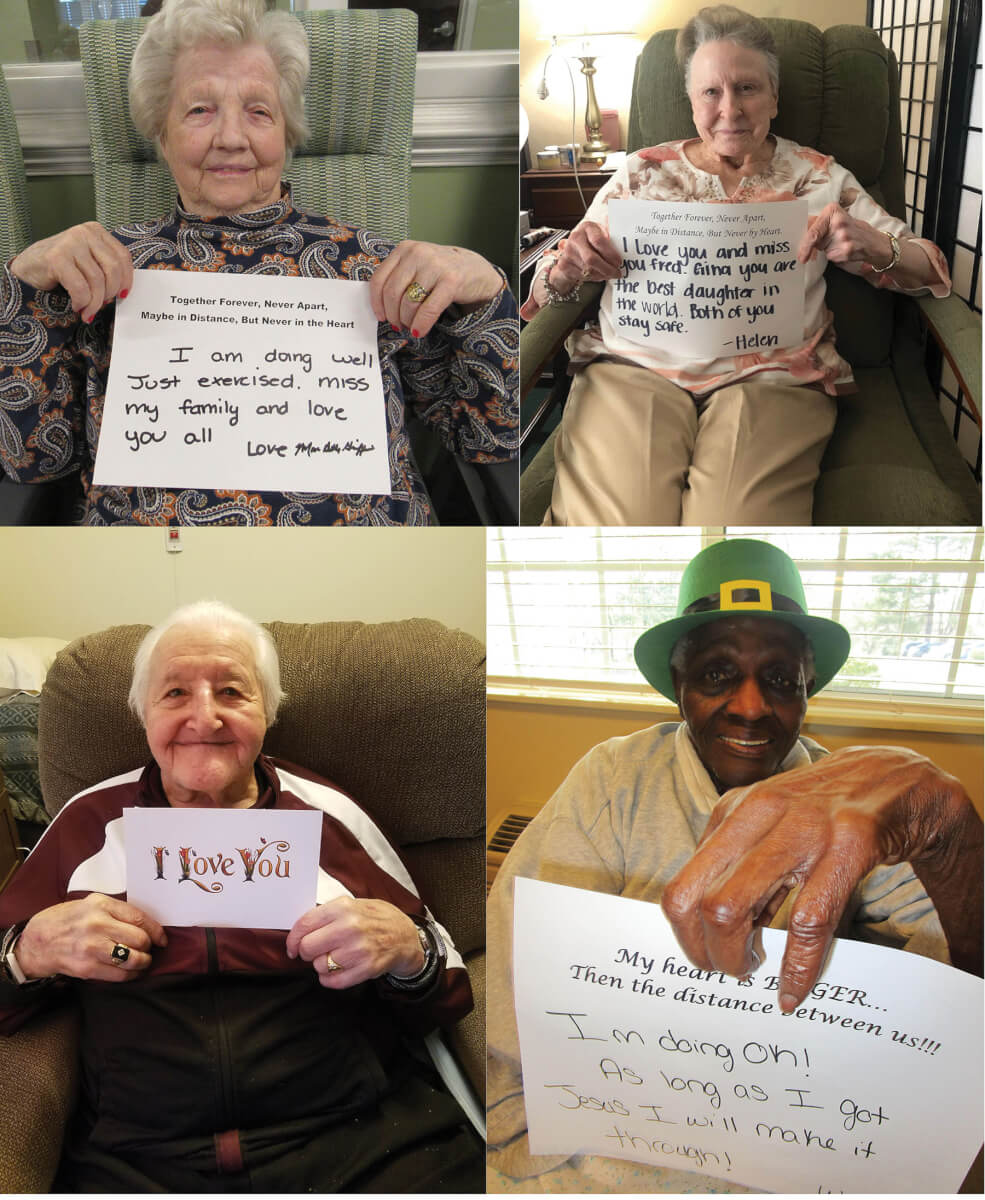 Seniors have taken to getting their message of love out to families using DePaul's social media pages in addition to using FaceTime and other technology to connect virtually. Glenwell Marketing Director Stacy Jasinski said she has experienced some of the most beautiful moments facilitating video chats between residents and their families and friends using a computer, smartphone or tablet.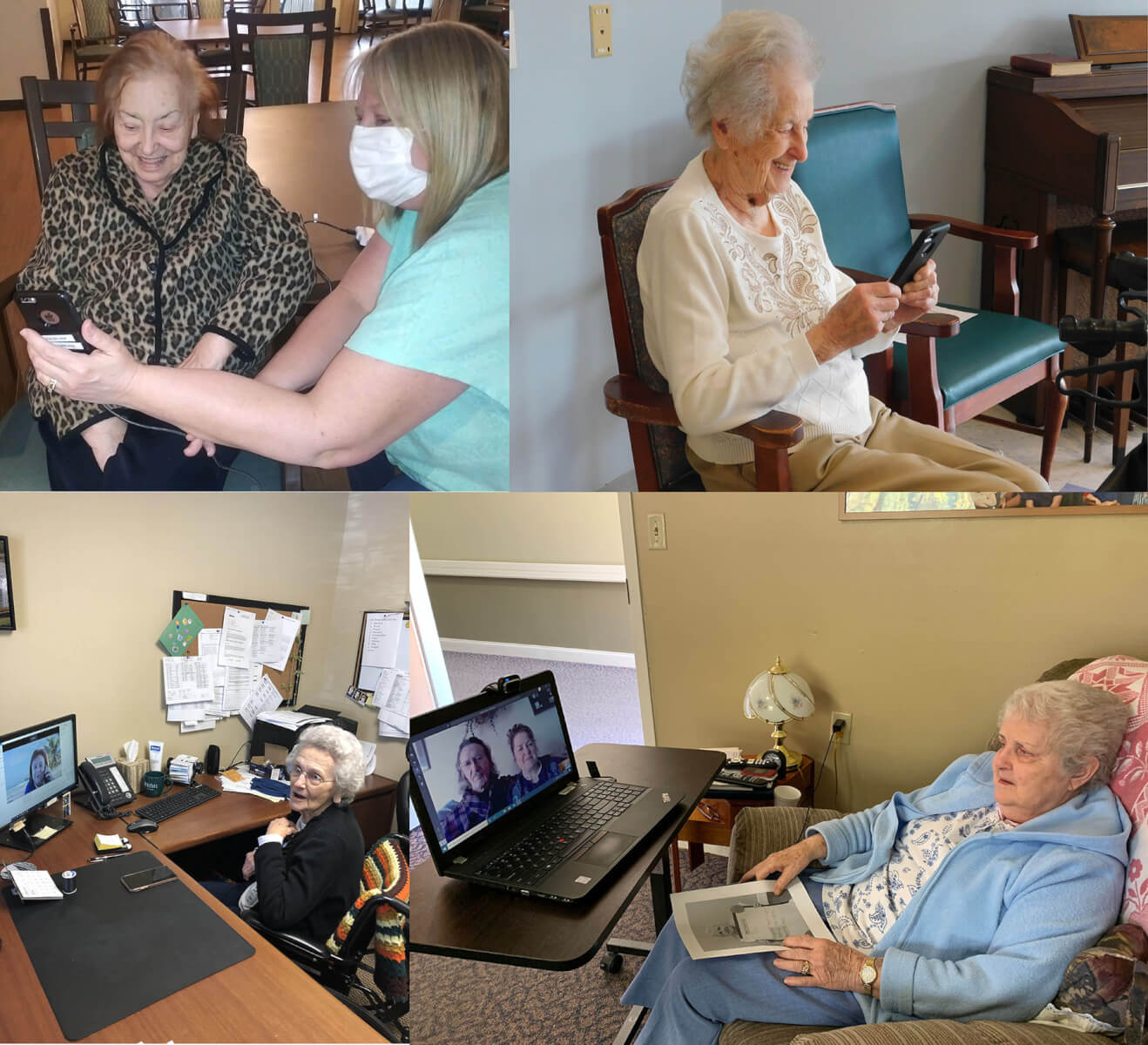 "It was amazing to see the tears of joy as they were able to see and talk to their loved ones through technology," said Jasinski. "I am so glad that we are able to provide ways to keep residents connected."
Snail Mail and Pen Pals
While technology makes it easy to connect with family members with the touch of a button, there's still nothing that quite replaces the joy of knowing someone took the time to send a good old letter or greeting card in the mail!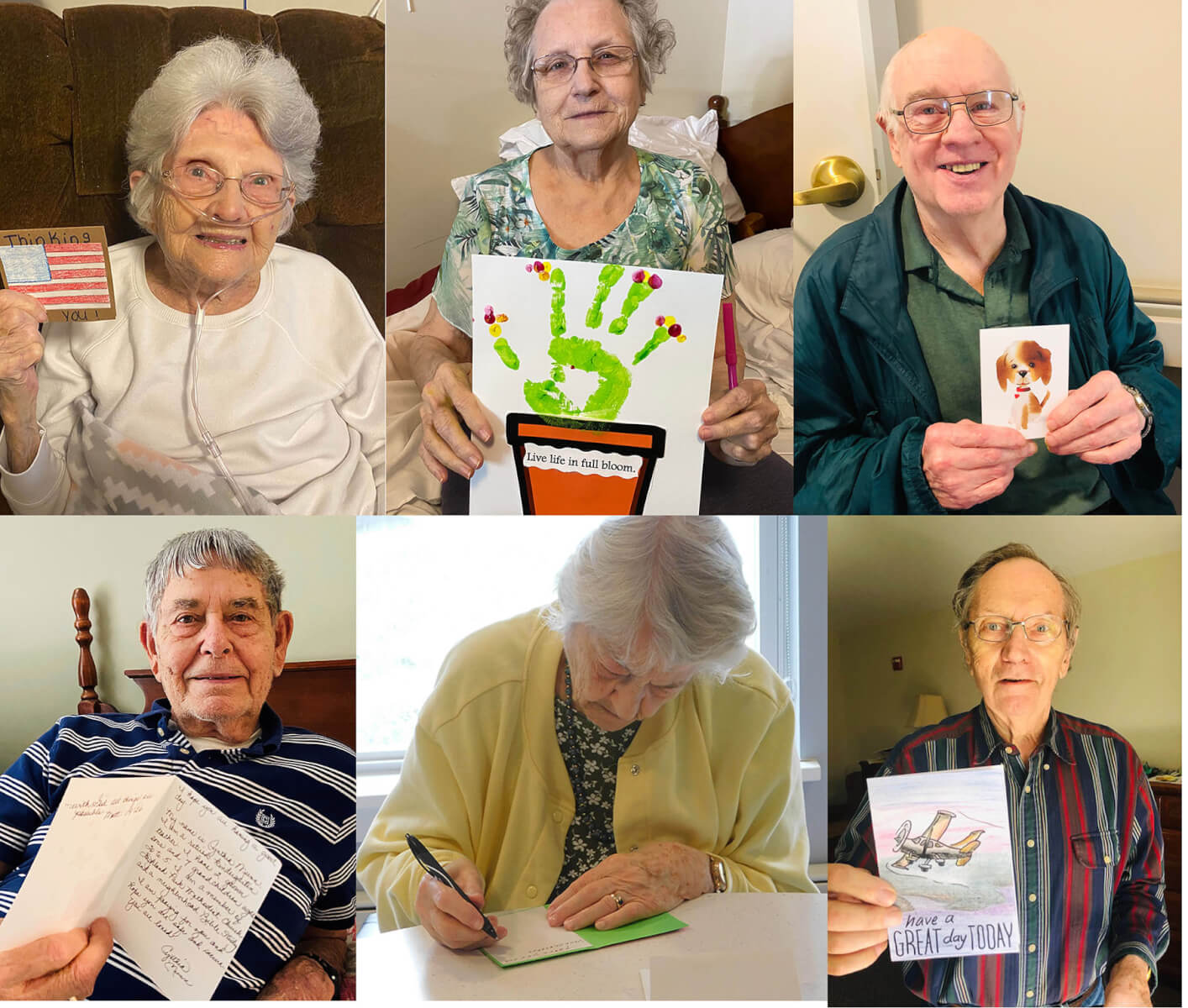 Residents at Westwood Commons have exchanged letters with the parishioners at Elevation Church, received letters from several young women and Girl Scout troops in the community and created a video of thanks! In one case, a forgotten return address on a letter from a community member to a resident had a happy ending thanks to a post on Facebook!
"I believe the letters brought us back to the good old days when writing was thoughtful and more meaningful and personal," said Westwood Commons Activities Director Cathy Toney.
At Glenwell, residents recorded their messages of thanks for the cards from Hope Rises, Oasis Senior Advisors Buffalo, and Kristen Saskowski in this adorable video! Residents at Pee Dee Gardens in Florence, South Carolina received cards from their neighbors through a nearby homeowner's association. And residents at Cambridge House in Hildebran, North Carolina recorded a fun thank you video to thank The Rising Church for the sweet cards they sent!
Parades and Serenades
Celebrations and serenades must go on! DePaul staff and residents are still finding ways to make anniversaries, birthdays, Mother's Day, Father's Day and other important milestones extra special!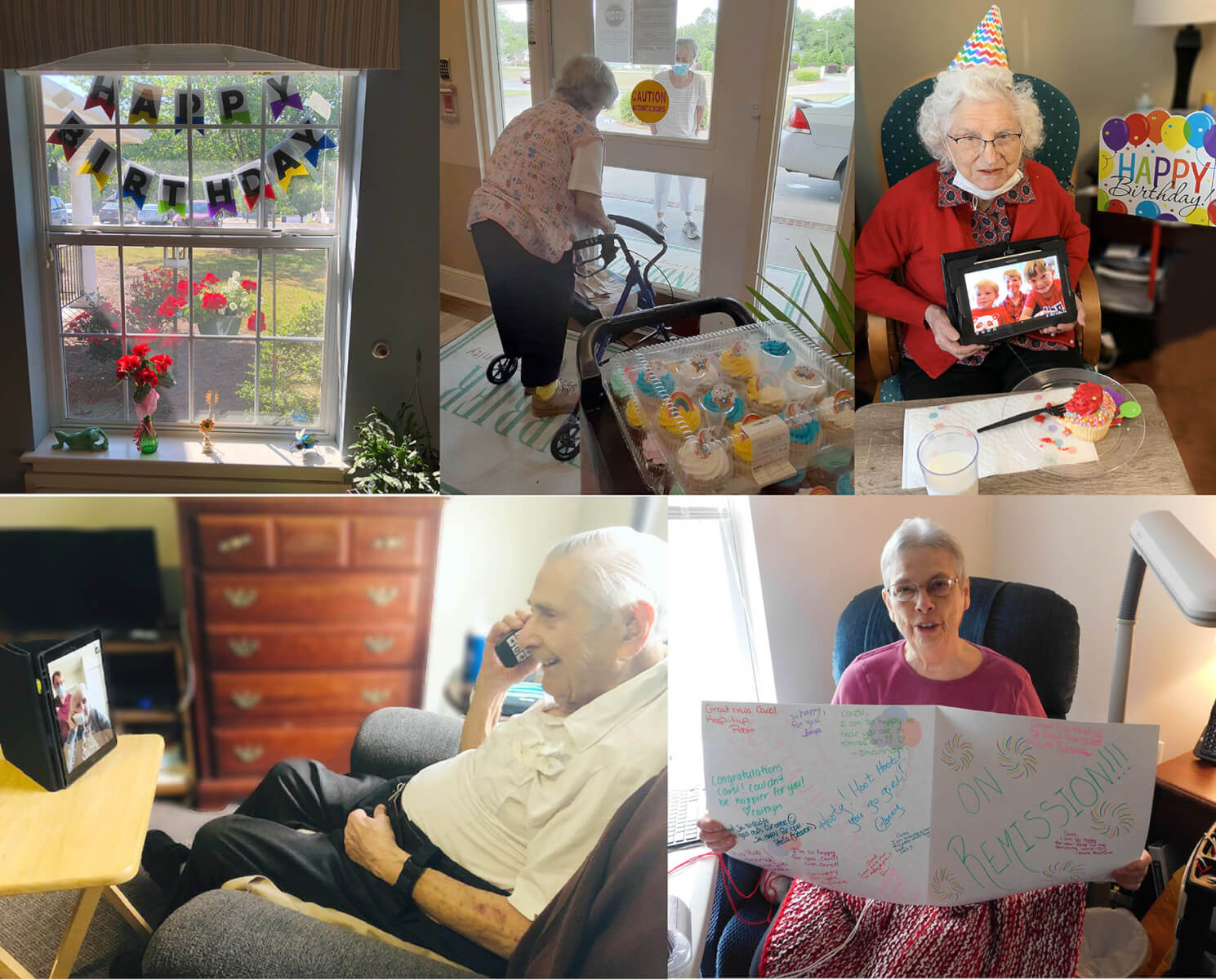 Family members have taken to decorating windows, sending cards, and providing cake for residents and staff to recognize their loved ones' birthdays including a resident at Greenbrier who received window visits from family on her special day.
Using technology, a resident at Rolling Ridge attended her great-grandson's 10th birthday party, and a resident of Glenwell was able to celebrate his 69th anniversary with his wife who is a resident at a nearby health care community.
And seniors and staff recently helped a resident celebrate her cancer being in remission with a huge card at Westwood Commons.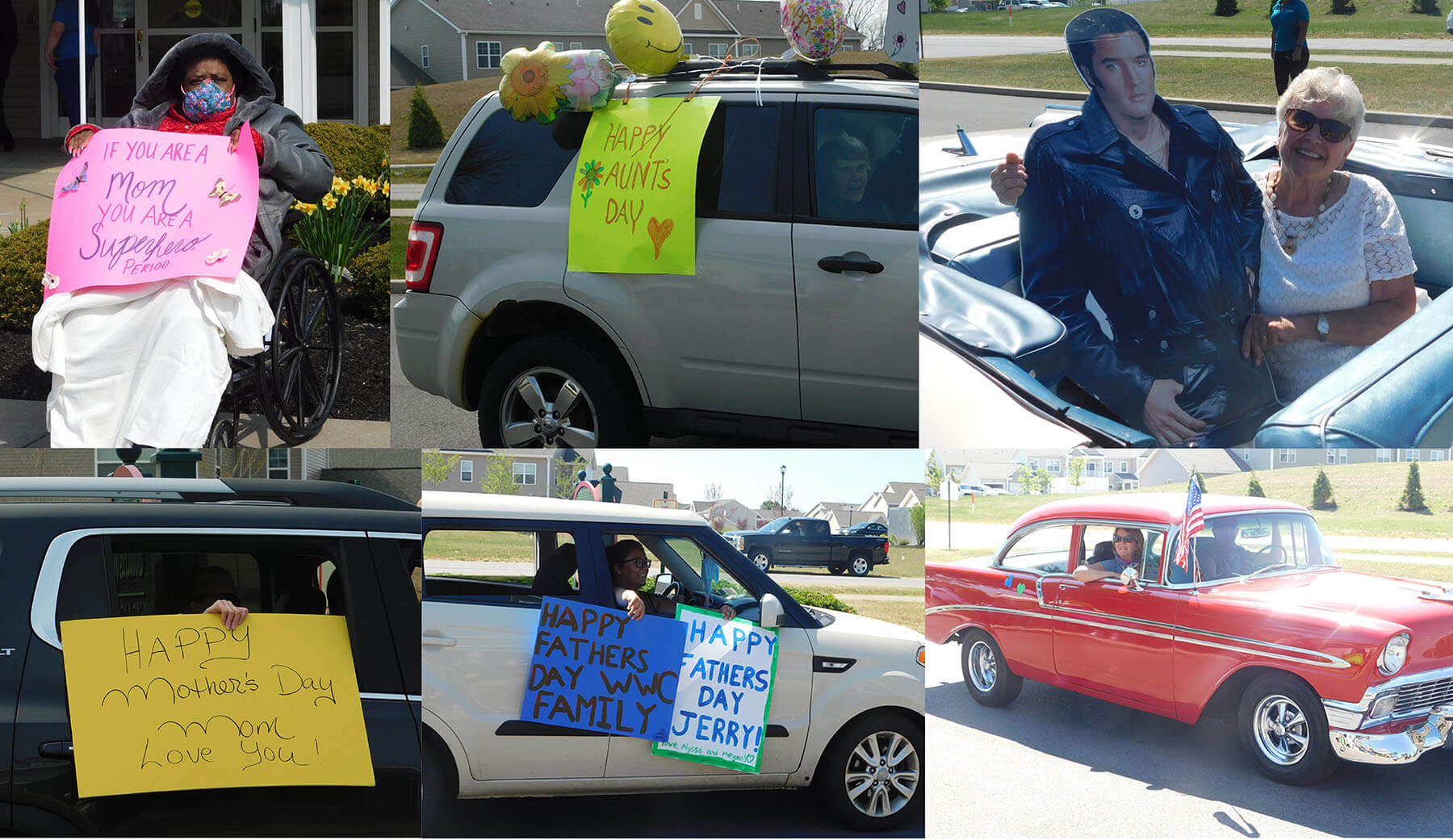 Mother's and Father's Day at Westwood Commons were unforgettable thanks to parades including family members and the community! Residents watched from the curb at a distance or from inside through the windows. These events were special because they allowed residents and their families to see each other in different way, said Administrator Caitlyn Stoffle.
"We wanted to give everyone the opportunity to show how much they love our residents, especially during a time when contact with their loved ones is so limited," said Stoffle. "This allowed everyone to be close together for such a special occasion but remain socially distant. The residents, families and participants loved the event!"