International Day of Transgender Visibility
"As long as we are living in a culture where one has to prove their womanhood or manhood, we are not living in a free culture." Laverne Cox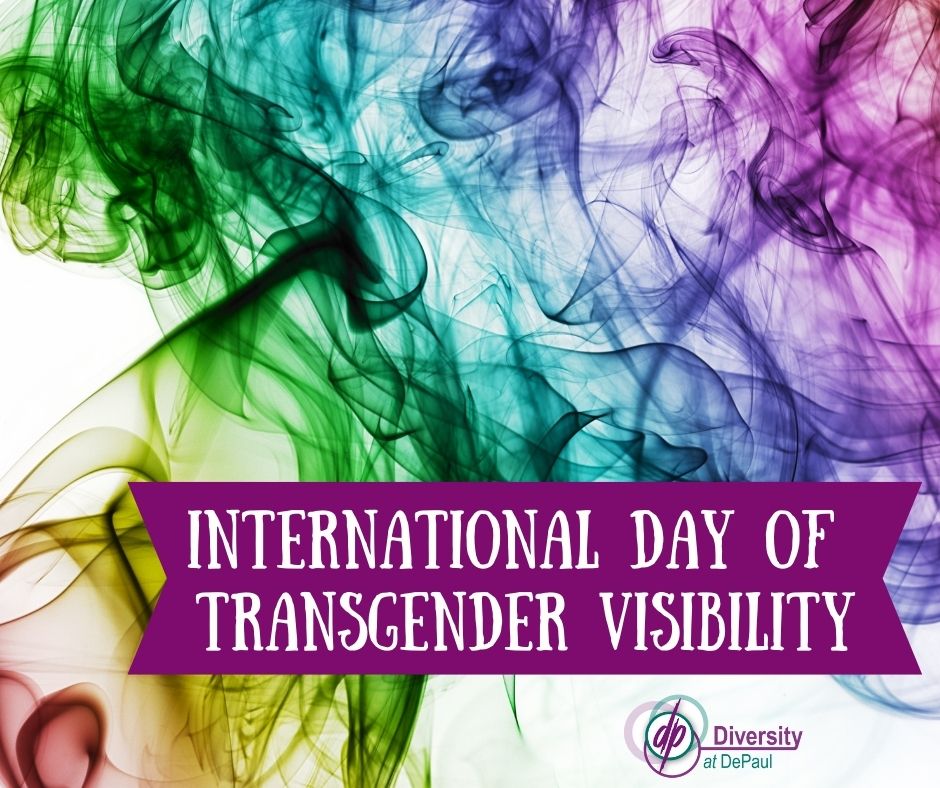 International Day of Transgender Visibility is celebrated annually across the globe on March 31st. The day provides an opportunity to celebrate and highlight accomplishments by and for transgender individuals and serves as a reminder that while progress toward equal rights has been made, much remains to be done.
Throughout history, transgender individuals have contributed to the arts, sciences, sports, public policy and community life. Some of today's movers and shakers include:
Rachel Levine is a physician and four-star admiral. She has served as the United States Assistant Secretary for Health since March 2021.
Elle Hearns is a transgender rights activist and the co-founder of the Black Lives Matter Global Network.
Artist and activist Chella Man is an individual who is Deaf who educates others on his YouTube channel.
Jazz Jennings stars in her own reality show, "I Am Jazz," on TLC.
Janet Mock is the first transgender individual to sign a production contract with a major Hollywood studio.
The biography of virtually any transgender celebrity includes the word activist along with their chosen career. That is because in addition to their normal day-to-day work and life, they are thrust into the role of representing the transgender community in the fight against injustice and violence.
Actress Laverne Cox has said "For me, being in the media has been a powerful tool and a huge responsibility."
This activism arises out of concerns of civic freedom, safety, and life that many transgender individuals face.
According to Fran Hutchins of the Equality Federation, "when LGBTQ+ people's rights and existence are up for debate, it creates a culture in which hate-motivated crimes are commonplace."
Violence against members of the transgender community is a very real and growing concern. From 2017-2021, reported murders nearly doubled. That number, and the number of non-fatal attacks, is continuing to rise with the wave of anti-transgender legislation and hate speech. The actual number of officially counted hate-based attacks is widely believed to be only a fraction of those that occur. These attacks target children, teens and adults.
We are fortunate at DePaul to have a diverse workforce of staff members, tenants and service recipients who are committed to raising awareness and the bar when it comes to equal rights. One such ambassador is Aimee Spence, a resident of Ebenezer Square Apartments in West Seneca. Aimee's vast life experience includes a distinguished military career, working as a professional clown, and countless hours educating and supporting others on all things related to the transgender community.
Here are a few excerpts from a recent interview with Aimee:
Why does transgender visibilty matter?
Aimee: Because transgender people just want to be ourselves, just like everyone else. Rates of suicide and violence are very high in our community.
Have you seen attitudes of individuals and communities change over time?
Aimee: Yes! People are more accepting once they get to know us as individuals.
What would you like staff that work with transgender clients at DePaul to know?
Aimee:
Create a culture of non-harassment for ALL.
Stand up for transgender residents.
Just see people as people! Do not focus on gender or gender-expression.