Meet Coleman Faison, DePaul's Diversity, Equity, and Inclusion Coordinator!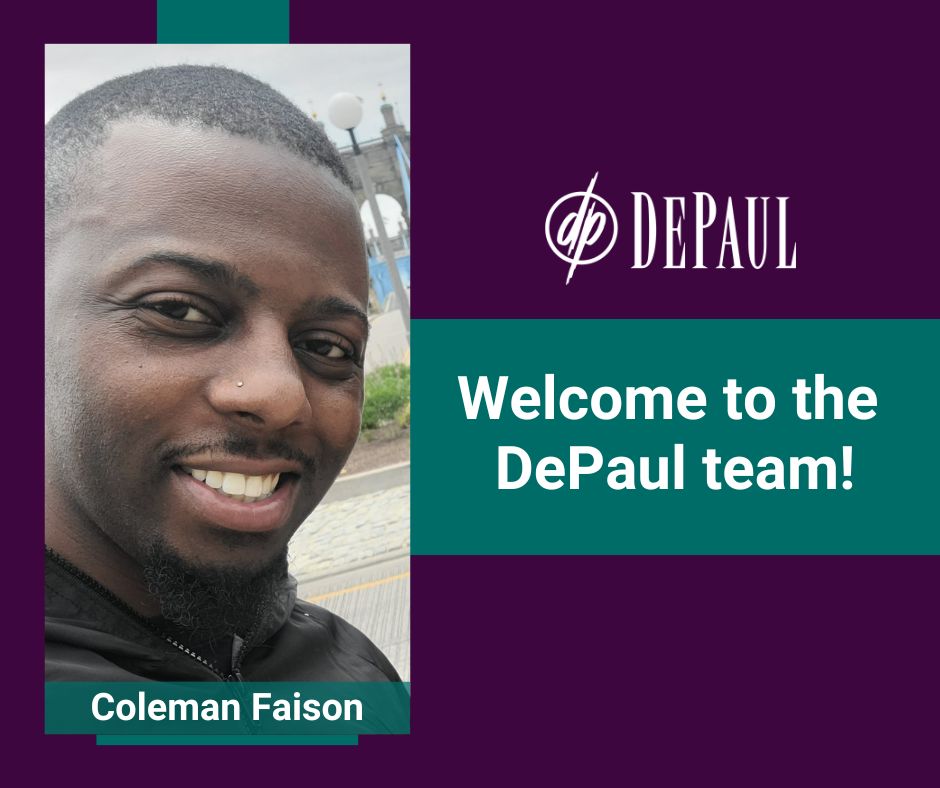 DePaul welcomes Coleman Faison IV as our Diversity, Equity, and Inclusion (DEI) Coordinator! Coleman's primary focus will be supporting DePaul's DEI Strategic Plan. He will join the already diverse group of folks from all corners of our organization who are passionate about DEI and interested in promoting a stronger culture of acceptance and belonging.
Tell us a little about yourself, including your work and education history, and something fun. 
I grew up in Rochester, New York, and have seen the bad sides of Rochester and have grown to appreciate the good sides of Rochester. I've grown to understand that "life is what you make it," by living my life in Rochester. I've worked in what feels like every field from retail, State Department of Corrections, Recruiting, Line Cook, Cleaning Computers, being an Assistant and so much more.
I attended Joseph C. Wilson Magnet High School, then to Monroe Community College's original downtown campus, and then on to Genesee Community College, graduating in hopes of advancing my career with Amazon/Courier Distributions but unfortunately, that company was laid off by Amazon.
About my little bundles of chaos, I have an eight-year-old son (Coleman V) and with him being half black & half Puerto Rican we call him Cinco or  "Actually" because he'll not hesitate to tell when you're wrong about something. My daughter is four and I wanted a daughter so bad (though that doesn't mean I was prepared for being a "girl dad")! She's a handful but she's a princess.
What cultural identities would you use to describe yourself, and how do these identities impact you? 
As for my cultural identity, I'm a millennial so my Disney is better than your Disney! I believe "it's easier to turn a No into a Yes than a Yes into a No" which I learned as a Corrections Officer but it also applies to being a parent. I have 16 siblings so my perspective on chaos is quite a bit different than others!
I've lost significant people in my life to murder, suicide, S.I.D.S., and drug overdose. I say it not to be morbid, but these events play a significant part in who I am as a Father, Friend, Husband, and advocate for things to be better. Part of my identity is to be a changemaker which is just another reason to add on why I'm so happy to be at DePaul working in the role that I am.
What experience got you interested in working in DEI? 
I worked for the Urban League of Rochester as the HR Administrator and across from my office was the Director of DEI., Mr. Dan Butler. Working at a non-for-profit that has historically helped folks that look like me, it was amazing seeing the effort into going beyond that. It also put into perspective all the incarcerated persons I crossed during my time as a Corrections Officer. It felt good to be in a position working in the non-profit field to have resources to now help these individuals.
What experience do you have in the DEI world that you are excited to bring to DePaul? 
I've spent the last year and a half working as the Executive Assistant to the Chief Diversity Officer of Monroe County. During that time, I played a vital role in leading projects, coordinating classes, training, and creating equitable opportunities for staff. I had the privilege of being on the ground floor of taking a thought and turning it into an implementation plan and then rolling it out.
What do you think makes an effective DEI strategy at an organization? 
Without good work culture, nothing will progress. Creating a healthy work culture retains employees. Retaining these employees means all the DEI efforts implemented that will be affecting these employees will be a reflection on the new hires who enter and stay a long time. Nothing is more discouraging than entering a new job and the staff "training" you or giving you the "rundown" on why they hate the place they work for.
What is one thing you are excited to bring to DePaul to help grow our inclusive work environment?
I'm excited to bring me. I've waited for the opportunity to grow myself beyond that of an assistant. I'm excited to bring my tenacity, perseverance, creativity, and attitude to every facility and interaction I have.
Please share a few resources that have helped you grow in your understanding of diverse populations. 
TikTok: Conscious Lee (one of my favorites)
Dr. Deanna Kimbrel, previous Chief Diversity Officer for Monroe County
Dan Butler, Chief Equity Officer for the City of Rochester
Workforce Diversity Network training & resources