Tail Waggin' Good Times (Twelve Oaks)
December 20, 2017 (Mt. Airy, NC) ─ Phoebe recently dropped into Twelve Oaks, a DePaul Senior Living Community in Mt. Airy, dressed in her finest, complete with polished nails…all 12 of them! Phoebe is a therapy dog in training. Her owner Kim Branch started bringing Phoebe in to visit with her mother, a resident at Twelve Oaks.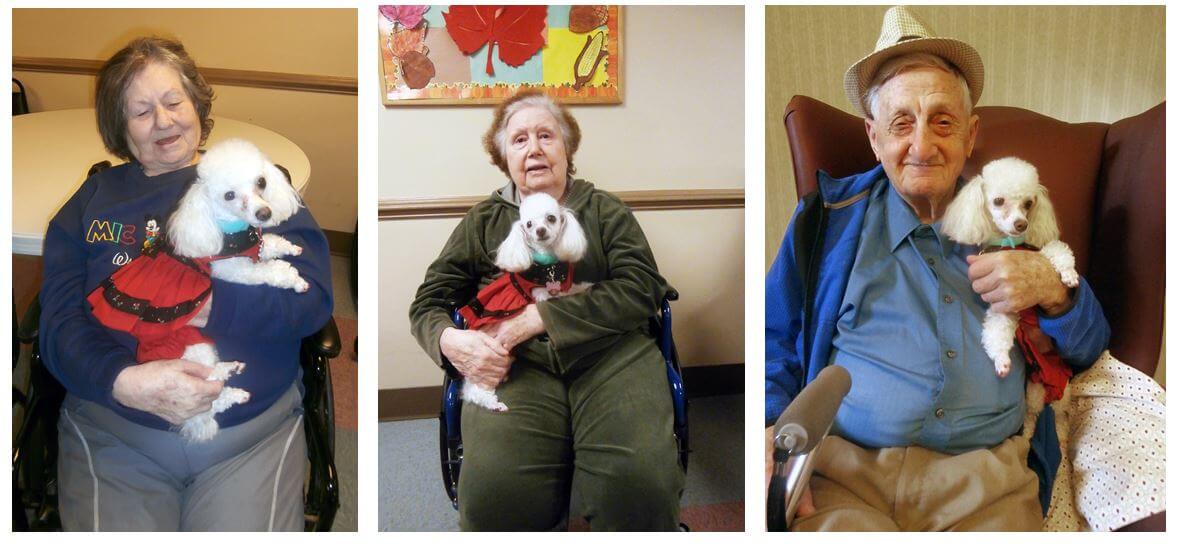 A tiny toy poodle, Phoebe is pictured above with Twelve Oaks residents Irene White, Kim's mother Frieda Chauncey, and Ted Coleman. Her owner Kim said Phoebe improves the residents' moods and is treated like royalty when she arrives in her baby stroller to make the rounds.
"She's an ambassador of goodwill and cheer," said Branch. "She's four pounds of pure love."
Kim has begun the process of registering Phoebe as a therapy dog. In the meantime, she's getting plenty of practice spreading cheer at Twelve Oaks.
"I love to make people smile," said Branch. "I know how good it feels to be loved and that's what Phoebe does."
For more information about Twelve Oaks, please contact Administrator Penny Haynes at (336) 786-1130, at phaynes@depaul.org or visit us on Facebook.