Healing With Hobbies at Southfork
May 10, 2021 (Winston-Salem, NC) ─ In an effort to pass the time and cope during the pandemic, many have rediscovered hobbies or found new creative outlets over the past year.  At Southfork, a DePaul Senior Living Community in Winston-Salem, two residents have found healing and joy in artistic expression!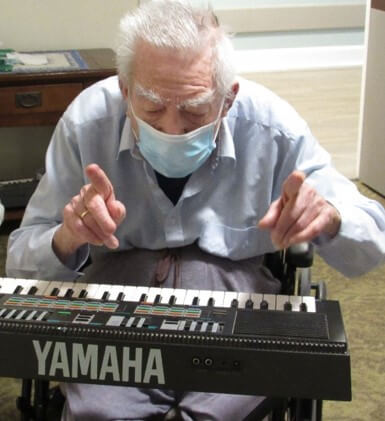 Gene Settle first learned his love of the piano at the young age of 17 years old, after hearing a friend play. It made such an impression on him that he went out and bought a piano from a locally owned company. Shortly after that, he was drafted and that same company stored his piano for three years free of charge. He bought his first keyboard at 23 years old and has loved playing ever since.
Over the past year, he has been grateful to have the hobby he loves so much. He says it has been a great outlet for him when he is feeling "melancholy."  Other residents have enjoyed hearing the hymns and other tunes coming from his room and radiating joy into the hallway. He's also recently performed for the "Good News Group" which meets in the mornings.
"It brings him great joy to know he is such a blessing to us," said Administrator Tara Greene. "Our Gene Settle is not only very talented, but he is a precious soul. We love him dearly."
Brenda Bailey loves sharing her coloring art with others and it always brightens staff and residents' day to be the recipient of her artwork. In the past year, there has rarely been a day that has gone by that Brenda has not created a new art piece to share with someone who she feels might need it.
Brenda has always loved making art and sharing it in order to bring a smile to others.
"To know her is to love her," said Greene. "We are so blessed that she is part of our Southfork family."
For more information about Southfork, please contact Administrator Tara Greene at (336) 768-8828, at tgreene@depaul.org or visit us on Facebook.