Pinterest Envy with DePaul Seniors
By: Amy Cavalier, Communications/Development Coordinator
When it comes to arts and crafts, DePaul seniors are taking their handiwork to the next level! Whether it be painted rocks or canvas, their art is having an impact in their communities, adding a decorative flair to their homes and providing an opportunity to socialize and collaborate with their fellow residents to create "Pinterest-worthy" results!
Canvas Art at Dayspring of Wallace
Residents at Dayspring of Wallace, a DePaul Senior Living Community in Wallace, North Carolina, are brightening up the halls with their 8"X10" canvas art! This craft was made possible using a few simple supplies such as masking tape, paint and sponge brushes to turn canvas into a piece of artwork resembling stained glass!
"I am all about bringing smiles and laughter to our residents," said Activities Director Maria Iadonisi. "With any art project, there is not a right and wrong way to do it."
Everyone was given a plate of acrylic paint and sponge brush to start. The plates were passed around so residents could choose to mix colors or just use one or two. The project took about 45 minutes to make. After drying overnight, staff removed the tape to reveal residents' masterpieces! The completed paintings are now on daily display at the nurses' station where residents can proudly see and show off their work to friends and guests.

Snow Globes at Woodcrest Commons
Snow globe kits purchased from the Dollar Tree took on new life when residents at Woodcrest Commons, a DePaul Senior Living Community in Henrietta, New York, added some confetti and rubber duckies. Once the confetti and ducks were placed in the globes, they were filled with distilled water and a squirt of glycerin. After sealing them up, residents used washi tape to cover the bases of their snow globes in festive patterns and colors.
Activities Director Lindsay Lown estimates each project cost $1.50 to make and the finished project made perfect gifts!
Painted Rocks at Twelve Oaks and Cambridge House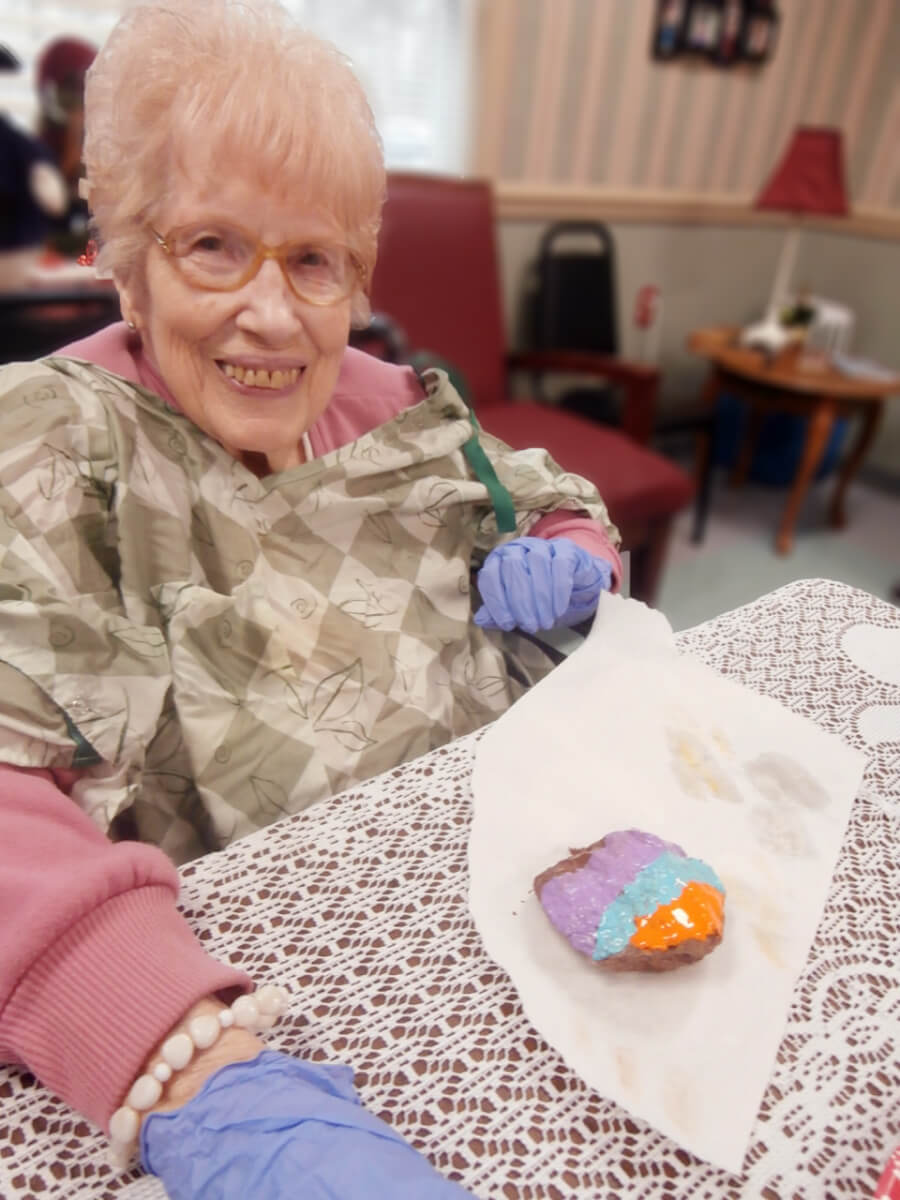 Several of DePaul's Senior Living sites in North Carolina have been painting rocks to spread colorful messages of hope and kindness throughout their communities.
Seniors at Cambridge House, a DePaul Senior Living Community in Hildebran, North Carolina, used rocks collected by Activity Director Gabby Houston and adorned them with positive, colorful sayings. Some of the residents kept the rocks in their rooms. Others were distributed through the local community.
"The thought is to shed some light and joy around our area," said Houston. "Who knows where they could end up, who picked them up to be placed somewhere else, or who kept them."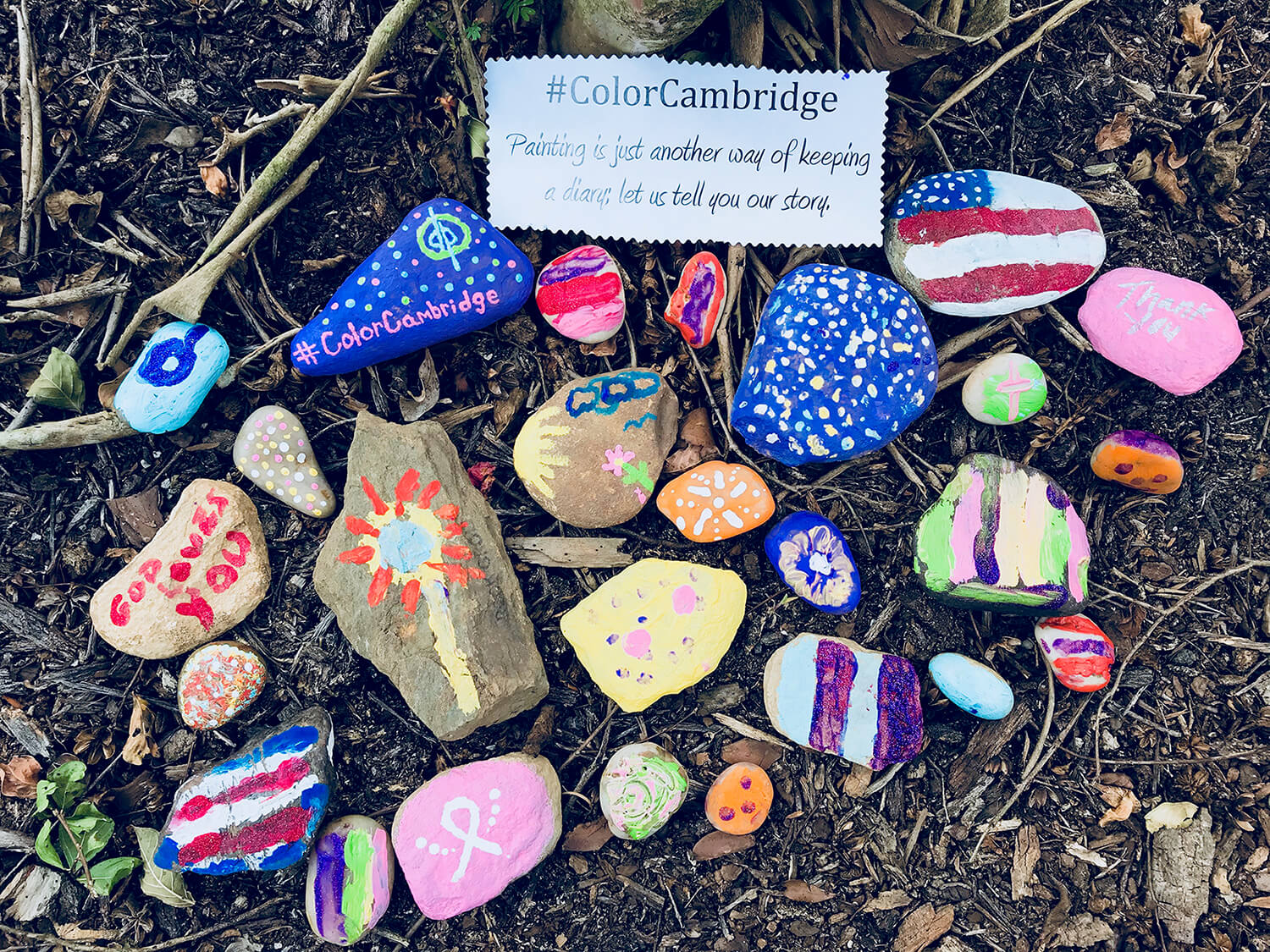 The seniors will be back at it again this spring. Houston is planning to plant a flower and vegetable garden this summer and she's going to ask the residents to paint rocks to use along the edges of the bed!
Residents at Twelve Oaks, a DePaul Senior Living Community in Mt. Airy, North Carolina, took part in the same trend of painting rocks and hiding them in the community in hopes that would bring a smile to someone's face. Residents used acrylic paint so the rain would not wash it off and placed the rocks around the community.
---
For more inspiration for Senior Living Activities, visit DePaul on Pinterest!