By: Amy Cavalier, Communications/Development Coordinator
In an effort to pass the time and remain engaged during the pandemic, many DePaul seniors have rediscovered hobbies or found new creative outlets over the past year.
Glenwell in Cheektowaga, New York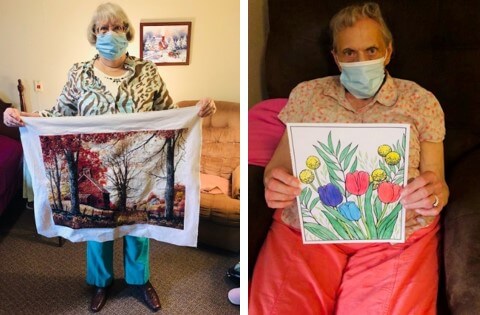 At Glenwell in Cheektowaga, New York, Cynthia Magrum (pictured left) found comfort in her cross stich while Mary Matre (pictured right) discovered a love of coloring.
Cross stitch is relaxing, Cynthia said, and she enjoys sharing her work with others. Clocking about four hours a day on average, Cynthia has completed about four pieces over the past year and about 25 in her lifetime.
As someone who likes to stay busy, Mary Matre discovered a new hobby during the pandemic − coloring!
"I'm creating something, and it made me feel good that I could do that," she said.
Heritage Manor of Lockport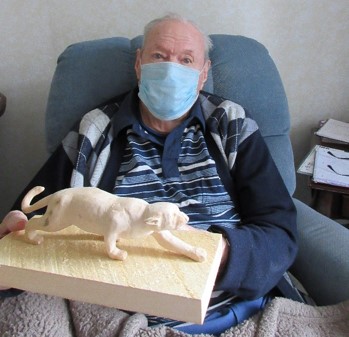 At Heritage Manor of Lockport in Lockport, New York, Ken Duncan has been staying busy rekindling a love of wood carving, doing puzzles, and writing down his memoirs.
Ken said he has gotten a lot of satisfaction "turning out" his masterpieces over the years so others can enjoy them. He estimates having carved nearly 40 pieces in his lifetime.
Rolling Ridge
At Rolling Ridge in Newton Grove, North Carolina, Eloise Clifton has puzzled her way through the pandemic!
"Puzzles have kept my mind sharp," she said. "They keep me alert and happy here at Rolling Ridge."
When they are complete, Eloise glues the puzzles together and gives them to friends and family.
Southfork
At Southfork in Winston-Salem, North Carolina, Gene Settle has been grateful for his hobby of playing the keyboard while Brenda Bailey has been brightening people's day with her coloring art!
Gene said playing music has been a great outlet for him when he is feeling "melancholy." Other residents have enjoyed hearing the hymns and other tunes coming from his room, radiating joy into the hallway. He's also recently performed for the "Good News Group" which meets in the mornings.
Brenda has always loved making art and sharing it, bringing a smile to others. In the past year, a day has rarely gone by where Brenda has not created a new art piece to share with someone who she feels might need it.
Westwood Commons
Three residents at Westwood Commons in North Chili, New York, were inspired by the arts during the pandemic.
John Smith rekindled his love of writing by penning some poetry during the pandemic. Author of an autobiography titled The Story of John Smith, which is not currently for sale, and The Kitchen 46 Cookbook which is currently for sale on Amazon and at Barnes & Noble, John wrote poems for staff and family over the past year.
An-all around artist, Peggy Aradine continued to make progress on her cross stitch and quilting during the past year. A former elementary school teacher, Peggy taught private and group watercolor and oil painting classes to both adults and youth at her house. She has dabbled in many forms of art in her lifetime, including paintings which she's gifted to family, sold or displayed in her room.
Marilyn Fegyo discovered a love of coloring, completing hundreds of pictures during the past year, mailing finished pieces to family and friends, as well as gifting them to fellow residents and staff at Westwood Commons. The pictures line her walls and each day, she selects three new ones to display on her door.
"It's relaxing to make beautiful things," she said. "I enjoy focusing on making it perfect, and that focus takes the stress away."
Wheatfield Commons
At Wheatfield Commons in North Tonawanda, New York, Betty Miller has completed over 50 pieces of coloring art and counting, since the pandemic began. Her work is on display next to the nursing station where residents and staff often stop to admire her artistry. Betty chooses new work for the display regularly based on the season or upcoming holidays.
"It helps to pass the time," she said. "I love to see people stop by my art gallery wall and smile."
---
Learn more about DePaul's senior living communities in New York, North Carolina and South Carolina.