Flying into Fall (Cambridge House)
November 7, 2018 (Hildebran, NC) ─ From a one-of-a-kind XF-15C post WWll fighter aircraft to a restored F-14 Tomcat made famous from the movie "Top Gun," residents from Cambridge House, a DePaul Senior Living Community in Hildebran, enjoyed exploring the facts and artifacts of the Golden Age of Aviation during a recent visit to the Hickory Aviation Museum.
Pictured above, Cambridge House residents Jerry Hudson, Loretta Sutherland and Mary Yackwack take in the sights during a recent trip to the Hickory Aviation Museum. Located at the Hickory Regional Airport, the Museum has the largest selection of military museum aircrafts in North Carolina.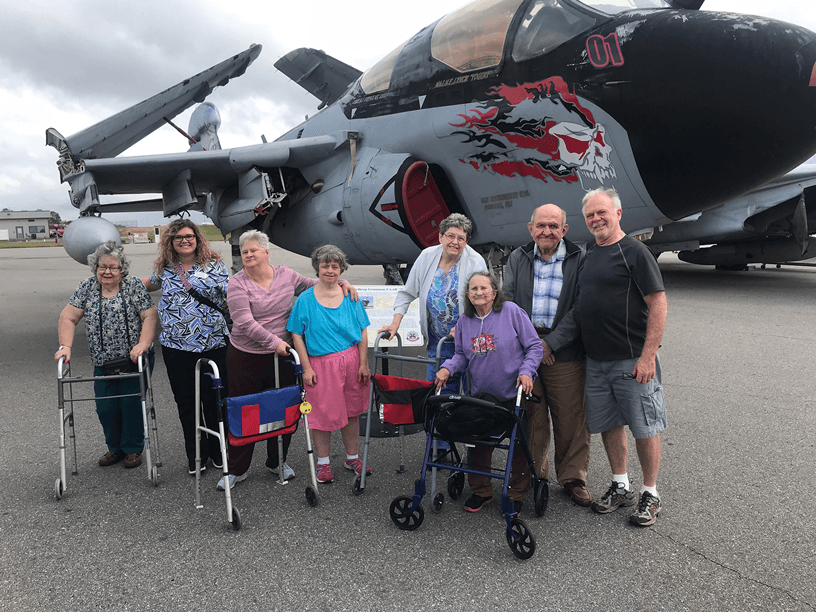 Pictured above at the Hickory Aviation museum are Cambridge House residents Christine Nix, Activities Director Gabby Kennedy, Susan Oxentine, Loretta Sutherland, Judy Tallent, Mary Yackwack, Jerry Hudson and Cambridge House Maintenance Director James Wrigley. Following the tour, residents enjoyed lunch at Crosswinds Café.
"The residents asked a lot of questions about the planes and were amazed at the stories behind each plane and the facts and details about how they worked," said Activities Director Gabby Kennedy.
For more information about Cambridge House, please contact Administrator Amber Minton at (828) 325-4980, at aminton@depaul.org or visit us on Facebook.