Take Me Out to the Ballgame (Cambridge House)
April 30, 2019 (Hildebran, NC) ─ Senior Day at the Hickory Crawdads was a homerun for the residents of Cambridge House, a DePaul Senior Living Community in Hildebran! Residents and staff got the royal treatment with reduced admission, complimentary snacks and beverages, and due to a mix-up in seating, they got the opportunity enjoy the game from a suite box!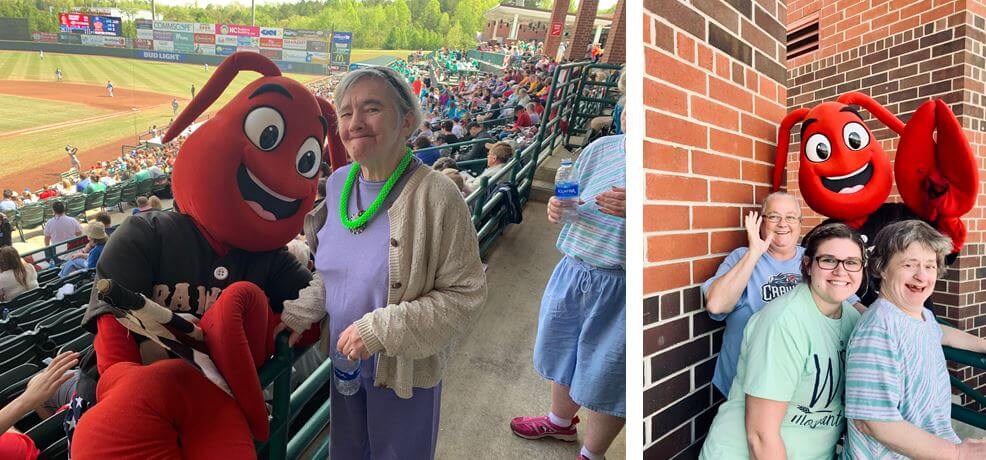 Pictured here, Cambridge House residents Bonnie Autrey and Loretta Sutherland and staff members Gabby Houston and Sherry Arrant pose for photos with the Crawdads' Mascot, Conrad.
When a seating mix-up arose, staff at the stadium invited the seniors to enjoy the game from a suite complete with a shaded balcony, lounge chairs, private restrooms and more!
Residents enjoyed hot dogs, chips and a drink with the cost of admission, and some Dippin' Dots for dessert! There was plenty of cheering for the home team and dancing to the music.
Pictured above, resident Cambridge House Bonnie Autrey tries Dippin' Dots ice cream for the first time and Michael Long enjoys the view from a shaded suite!
"We are planning on attending all of the senior day games and we are so excited about each one," said Activities Director Gabby Houston.
It was a perfect day for a ballgame and a day the seniors won't soon forget! Thank you to the Hickory Crawdads for the incredible experience!
For more information about Cambridge House, please contact Administrator Amber Minton at (828) 325-4980, at aminton@depaul.org or visit us on Facebook.