Leaving a Legacy of Kindness (Prestwick Village)
November 22, 2019 (Laurinburg, NC) ─  Lucille Capps is no stranger to cancer. A resident at Prestwick Village, a DePaul Senior Living Community in Laurinburg, North Carolina, her first husband died of the disease when he was just 41 years old. There was no hospice or local doctor in town at the time, so Lucille took matters into her own hands.
"He knew for 13 months that he wasn't going to live," she said. "I put a small bed in his room. I learned a lot about caring for sick people."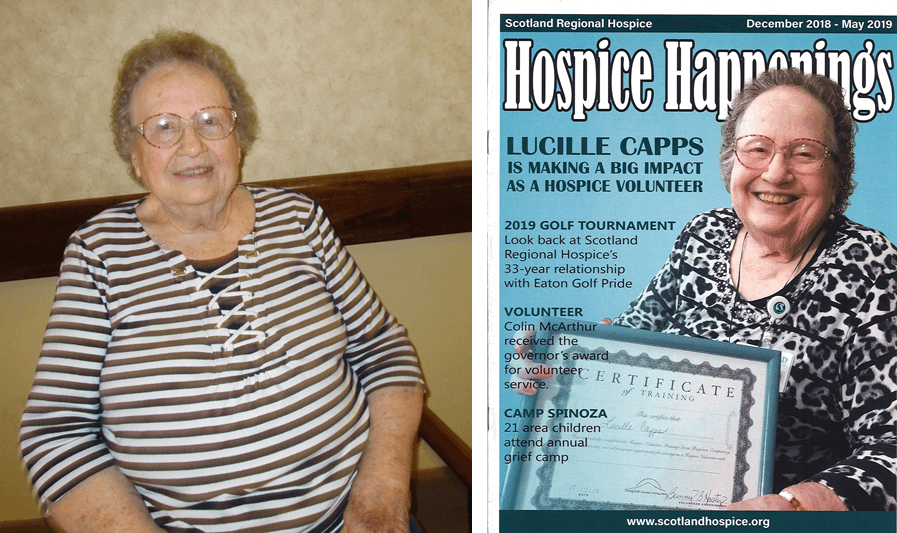 Earlier this year, when Lucille saw that Scotland Regional Hospice was looking for volunteers to care for patients nearing the end of life, she didn't hesitate to pick up the phone to lend a hand.
"When I was turning 90, I started thinking about the end of life and what happens down the road," she said. "I saw an ad in the paper for hospice volunteers. I liked what I read, and I decided to pick up the phone and call."
Volunteer coordinator for Scotland Regional Hospice, Bunny Hasty answered.
"She was really glad to hear from me," said Lucille. "Then she asked me how old I was. That's when she threw on the brakes. She asked me how my health is at this age. I said I have all my hair and all my teeth. She was over here the next day to see who was crazy enough to volunteer for hospice at 92."
"I went over and she was a delight," said Bunny. "She's sharp as a tack."
Bunny wasn't the only one who was impressed by Lucille's desire to become a hospice volunteer later in life. Lucille's timeless act of kindness captured the attention of Scott Mason, host of WRAL's Tar Heel Traveler. A segment featuring Lucille airs on Monday, November 25 at 5:55 p.m. and also will be available online. She was also the profile of a cover story of Scotland Regional Hospice's December 2018-May 2019 Hospice Happenings.
With Lucille volunteering to make upwards of 30 patient visits a month, Bunny said she couldn't think of a volunteer more deserving of being in the spotlight.
"I'm thrilled that this has happened for her and I've been able to be a part of it," said Bunny. "She has made a difference in my life as well. I've learned a lot of things from her."
Lucille said volunteering has kept her active and living a long and fulfilling life.
"The reward is when they put their arm around your neck and say 'I love you," she said. "I have people walk up to me and say Lucille, we'll never forget you. That's all the reward I'll need."
For more information about Prestwick Village, please contact Administrator Deanna Smith at (910) 276-5950 at dsmith4@depaul.org or visit us on Facebook.