July 31, 2020 (Canandaigua, NY) ─ With classic cars in the driveway and happy hour on the porch, residents are soaking up the summer vibes at Horizons, a DePaul Senior Living Community in Canandaigua.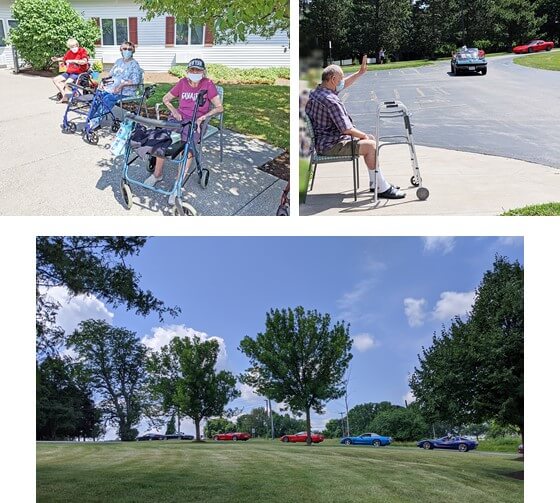 The Kanandaique Corvette Club recently rolled up in style with thirteen classic and collectible cars, including Corvettes spanning the years, from a 1962 to a 2014! Pictured above, taking in the parade of cars are Horizons residents Carole Flint, Pearl Osterman and Betty Crandell, as well as Peter Vogelaar.
The Car Club, which meets monthly, wanted to get out for some socially distant interaction, member Jeff Criblear said. In addition to Horizons, they visited four other senior living communities in the Canandaigua area on the same day!  The car show was a hit among seniors, so much so, Club members are thinking of making it an annual event!
"Our members enjoyed it a lot," he said. "Most of us have been on lockdown too."
In addition, to the car show, residents recently enjoyed a happy hour with refreshing strawberry and lime drinks on the rocks!
For more information about Horizons, please contact Administrator Tina Hagen at thagen@depaul.org or Marketing Director Pamela Fichtner at pfichtner@depaul.org, by phone at (585) 396-3390 or by visiting us on Facebook.