Celebrating 102 Years Young (Westwood Commons)
October 29, 2020 (North Chili, NY) ─ It's not something she ever anticipated or planned on, but Dottie Harkness is grateful for the opportunity to celebrate her 102nd birthday last month at Westwood Commons, a DePaul Senior Living Community in North Chili. If she had to do it over again, she said, she wouldn't change a thing.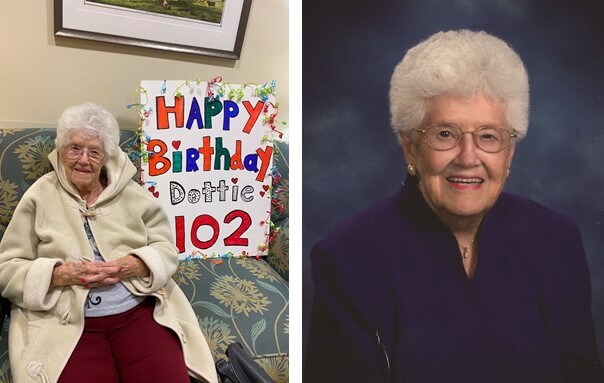 "I can't imagine my life being any different," she said.
A native of Aspinwall, Pennsylvania, Dottie attended college for teaching. She spent 40 years of her life teaching fourth grade. She and her husband Andrew had two children and she is now a grandmother and great grandmother to many!
Dottie has always enjoyed singing and was a member of the glee club and church choir. She said her biggest accomplishment has been family.
For more information about Westwood Commons, please contact Administrator Caitlyn Stoffle at (585) 293-2060, at cmark@depaul.org or visit us on Facebook.