It's a Wonderful Life at Wexford House
January 21, 2021 (Denver, NC) ─ The holidays may have looked and felt different this year, but residents and staff at Wexford House, a DePaul Senior Living Community in Denver, found plenty of ways to enjoy the magic of the season!
Pictured, Glenys Page enjoys a window visit from family and Mary Gallman and Rick Taylor accept presents on Christmas morning. Also pictured,  Nancy Killian keeps warm with a donated, handmade lap blanket, John Lemmers enjoys a window visit from family and William Green shows off his holiday spirit!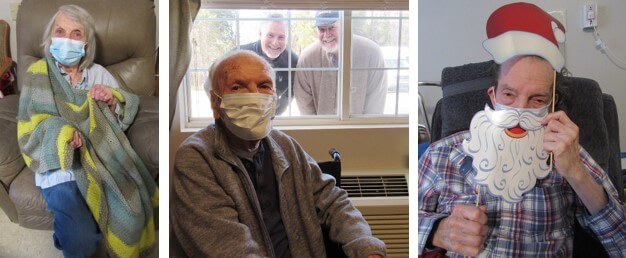 Among some of the many individuals, community groups, business and family members who made sure that residents and staff had a happy and healthy holiday at Wexford House were:
Olivia, Bryana, Jillian, Rachele, Adalyn, Henry, Cameron, Levi, Zachary and Jackson sent homemade Thanksgiving cards to residents
Carol and other members from Denver United Methodist Church put together Thanksgiving gift bags for residents
The halls were decked in poinsettias thanks to the North Lincoln High School Band Program
Residents enjoyed puzzle books donated by Mr. & Mrs. Heftner from Saint James Elementary School
Denver Dental Arts donated gift bags filled with goodies
Bryanna, Rachel, Ava, Adelynn, Zach, Nora & Kiki, and Jennifer provided homemade Christmas cards and doughnuts for residents
Sue Cook knit lap blankets for residents
Patricia and Janis supplied desserts and Sharon and Morgan provided appetizers for staff
Kathy Hojnacki and SF 360 donated gifts for residents
Pat Young and Donna Forrest provided cookies
Denver United Methodist Church provided gifts for residents
Kindred at Home provided a basket of goodies
The Grounded Kids Ministry at Lakeside Church brought beautiful cards and ornaments for residents
David Painter from LKN Underground Construction delivered lunch from Bojangles!
Many thanks to those who have made a difference! The outpouring of donations of support in recent months has truly been overwhelming. We are beyond grateful!
For more information about Wexford House, please contact Administrator Amy Smith at (704) 489-2633, at asmith2@depaul.org or visit us on Facebook.