Three Cheers for Volunteers
By: Amy Cavalier, Communications/Development Coordinator 
Residents at DePaul's Senior Living Communities in New York, North Carolina and South Carolina have plenty of reasons to count their blessings! National Volunteer Appreciation Month was in April. From pet therapy and porch sitting to musical performances and worship services, our communities are filled with plenty of dedicated volunteers of all ages 365 days a year!
"We are grateful for all of the things our volunteers do for us," said Leslie Spinner, Activities Director of Wexford House, a DePaul Senior Living Community in Denver, North Carolina. "It gives us a hand and it gives the residents a purpose. Feeling appreciated and useful is a huge factor in an individual's quality of life. "
Intergenerational partnerships

Lizzie Phipps, a volunteer at Rolling Ridge in Newton Grove, North Carolina proves that friendship knows no age. Phipps began visiting the senior living community through a club at her school over a year ago. Lizzie said she's not sure if she's adopted the residents or if they've adopted her.
"I wanted to volunteer to make a difference," she said. "Now they're just as much my friends as those I go to school with every day."
Joshua Frye, a sophomore at Marlboro Academy in South Carolina, came to Prestwick Village in Laurinburg, North Carolina looking to meet volunteer hours required of him by the National Honor Society. He enjoys it so much, he's become a regular, sometimes coming three days a week.
"These folks have lived through so many different situations in their lifetime," he said. "It really leaves a big impact on you to hear their stories."At Heath House in Lincolnton, North Carolina, young pageant queens Lacy, 9, and Kylee Andrews, 10, volunteer calling bingo, passing out treats and prizes, and posing for photos with residents.
"We can't always give back with money and it's hard to ask people for donations for everything, but I think most people can find one hour of their day, once a month or once a quarter," said Lacy and Kylee's mother Carmen Andrew. "The happiness it brings is such a satisfying feeling."
Southlake Christian Academy students visit Wexford House about every other month to read stories, play bingo, sing songs and engage with seniors.
"We've come to be like family," teacher Velvet Calhoun said of the intergenerational partnership.
Pet Therapy
April 30 was National Pet Therapy Day, an opportunity to recognize therapy animals and their companions for volunteering to provide comfort and healing to people of all ages and in all settings.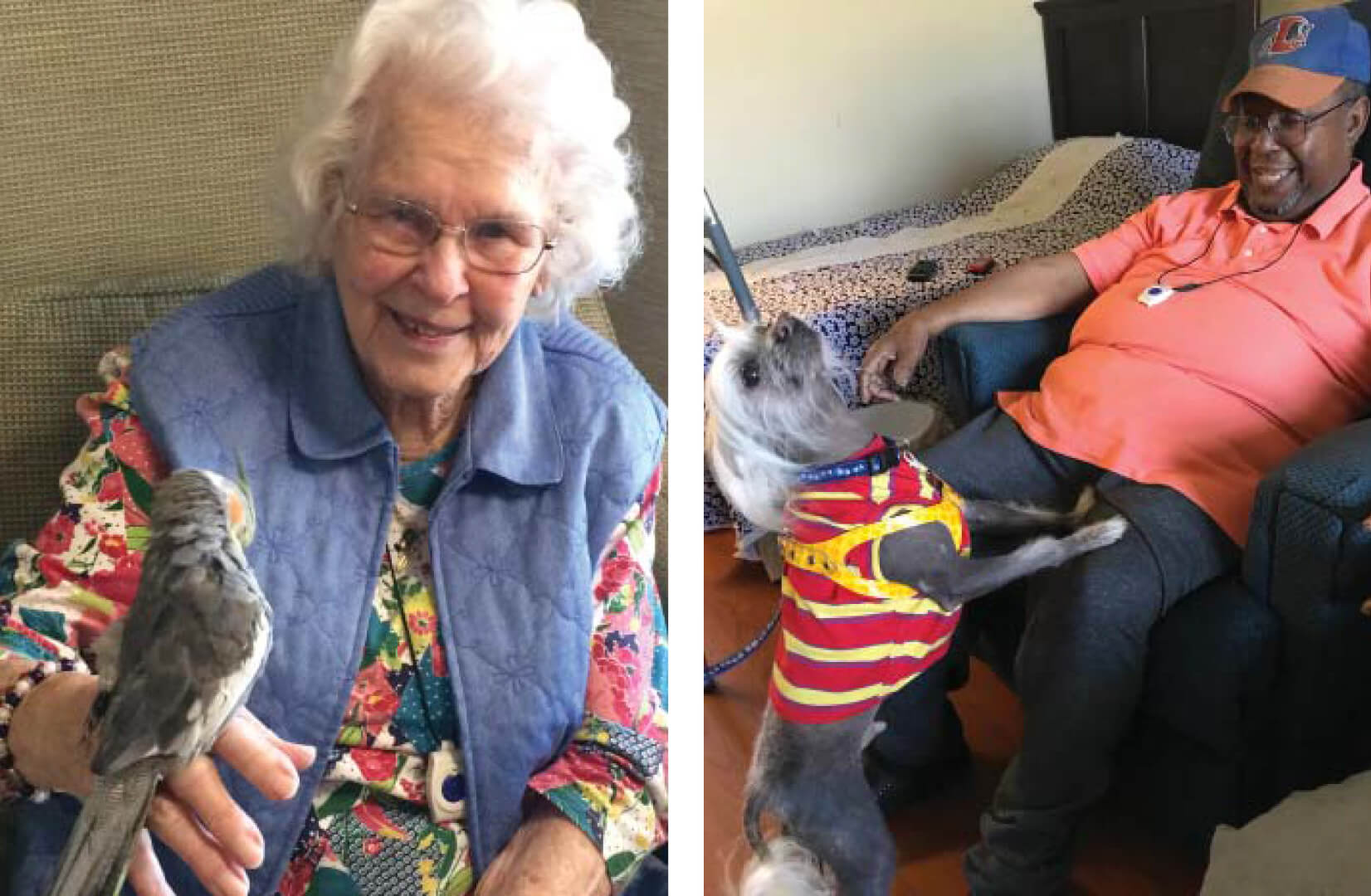 Rolling Ridge has hosted all kinds of creatures from a pot-bellied pig and a cockatiel to Fonzie, a hairless Chinese Crested dog. Fonzie's owner Sheila and her two other dogs Gracie, a Maltipoo, and Lily, a Maltese Yorkie, have visited once a month for over three years.
"I probably get more out of it than the residents do when it comes down to it," said Gardner.
According to Therapy Dogs International, studies have shown a decrease in blood pressure and stress levels during pet therapy visits. For Sue Schoenecker and her Golden Doodle Bogie who volunteer regularly at Wexford House, it's just a way to give back. Wexford House Activities Director Leslie Spinner said many people have had a dog sometime in their life. Seeing Bogie brings them back to a happy time in their life.
"Dogs give unconditional love," said Leslie. "You can't be in a bad mood for long when you are around a pet."
Music and manicures
DePaul is grateful to the many community volunteers who find all sorts of creative ways to share their talents and time with our seniors!

At Wexford House, volunteers Pat Young and Donna Forrest have been coming in on a weekly basis for manicures and crafts for the past year.
"We both feel like we're really making a difference," said Young.
The Parker Family Singers, a musical group consisting of parishioners from various area Baptist churches, visit Wexford House and Heath House once a month to perform older gospel songs.
"We call it a privilege to have the honor of singing to them and we pray the good Lord will allow us the good health and ability to continue singing for many more years," said group member Frank Hammett.
Faith and comradery
A member of the Boger City Baptist Church, Bob Wright volunteers each week at Heath House and Wexford House, replaying a recording of the Sunday service for residents.
"It gives them an opportunity to continue their spiritual growth," said Wright. "I just love to see the residents' reactions to the church services. They're very appreciative."
Local college students from Roberts Wesleyan College group "In Jesus' Name" have been coming to Westwood Commons in North Chili, New York for over five years to play games, do arts and crafts and share the ministry of love with the seniors!
"When you're at college, you're typically only around people of your own age with similar experiences," said Laurel Green, a senior at Roberts Wesleyan College. "This gives me the opportunity to get out of the bubble and be part of the community."